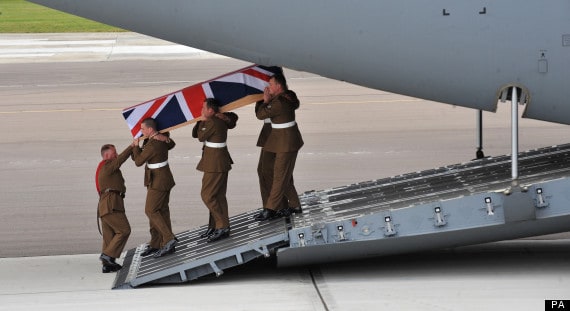 huffingtonpost.co.uk
(KABUL) More British soldiers and veterans took their own lives in 2012 than died fighting the Taliban in Afghanistan over the same period. BBC Panorama learned that 21 serving soldiers killed themselves last year, along with 29 veterans. The Afghanistan death toll was 44, of whom 40 died in action. Some of the soldiers' families say the men did not get enough support. The Ministry of Defence (MoD) said every suicide was a "tragedy".
The Panorama program obtained the figure of 21 through a Freedom of Information request to the MoD. The MoD said that rates of suicide and post-traumatic stress disorder (PTSD) within the serving military were lower than comparative rates in the civilian population. Seven serving soldiers have been confirmed as having killed themselves last year, and inquests are pending for a further 14 deaths where suicide is suspected.
The British government, unlike its American counterpart, does not record the suicide rate among ex-soldiers. But Panorama has independently established that at least 29 veterans took their own lives in 2012. It wrote to every coroner in the country to ask for the names of soldiers and veterans who killed themselves last year and also analysed newspaper reports of coroners' inquests.
'Hell on earth'
One serving soldier who killed himself was L/Sgt Dan Collins, who had fought in Operation Panther's Claw in Helmand province, Afghanistan, in the summer of 2009. L/Sgt Collins, a Welsh Guardsman, twice survived being shot and was blown off his feet by a roadside bomb. His friend, L/Cpl Dane Elson, was blown to pieces just yards away from him.
L/Sgt Collins's mother Deana had noticed a difference in her son during his time in Afghanistan. "The phone calls changed and I remember him telling me, 'Mum, this place is hell on earth and I just want to get out of here'," she said. After a six-month tour, L/Sgt Collins came home, returning to his girlfriend Vicky Roach's house. Miss Roach said: "Obviously, then I started noticing things. Nightmares were the main thing. It was pretty clear he was back there reliving everything."
The Army diagnosed L/Sgt Collins with PTSD. After 10 months of intermittent treatment, the Army told L/Sgt Collins he had recovered and would soon be ready to return to duty. Over the next three months, he twice tried to kill himself. He started missing his weekly NHS appointments and told his girlfriend his flashbacks were getting worse. "I wanted to help him but I didn't know what to do," said Miss Roach. "It takes a toll on your relationship and I just asked him to leave."
On New Year's Eve in 2011, L/Sgt Collins left her house, put on his Army uniform, and drove into the Preseli mountains in Pembrokeshire. He recorded a farewell video on his phone and then hanged himself. He was 29. The inquest into his death is still to be held.
A 'natural response'
Clinical psychologist Dr Claudia Herbert said PTSD is the body's "natural response" to distressing events. It can take years to emerge but is treatable if caught early. Symptoms include flashbacks, severe anxiety and depression.
The MoD said 2.9% of serving soldiers developed PTSD, which is lower than the general population. The number of soldiers with PTSD has more than doubled in the past three years among those who served in Afghanistan, according to MoD figures obtained via Panorama's FOI request. But Dr Herbert said: "Post-traumatic stress disorder in itself should not lead to suicide." "PTSD is a condition that indicates something has deeply disturbed the system and is a warning that the system needs help and needs to regulate again."
Nobody can be sure how many of the 21 soldiers and 29 veterans who took their own lives in 2012 were suffering from PTSD as the reasons for suicide are complex. "The evidence suggests there's more of a problem than the government and the MoD are admitting to," said Colonel Stuart Tootal, a former commander of 3 Para.
The former head of the British army, General Sir Richard Dannatt, wants the suicide rate among veterans to be monitored.
'Victims of war'
The MoD said it was not prepared to talk about individual cases, but has committed £7.4m to ensure there is extensive mental health support in place for everyone who needs it. It said 134,780 soldiers have been deployed to Afghanistan since 2001. The National Memorial Arboretum in Staffordshire honours the military casualties of every conflict since WWII. The names of soldiers who killed themselves in Afghanistan are engraved on the wall, but those who took their own lives after returning home are not mentioned. L/Sgt Collins was a serving soldier at the time of his death on 1 January 2012, but his name will not be on the memorial. "It's heartbreaking because Daniel would have been so proud to have his name carved somewhere," said Mrs Collins. "Soldiers with PTSD are exactly the same. They're victims of war and they should be treated exactly the same." (The Nation)

Islamic Post Editor's Note:
Love of one's country, or patriotism, is in itself a commendable quality; it is a natural inclination imbued within people by The Almighty Creator to defend one's honor, rights, property, family and nation, which has been sanctioned by Him. However, young men and women today have been recruited into a military machine that has become a mechanism used in the slaughter of innocent human beings for profit. Murder is a major sin in all religions and an affront upon the Almighty Creator of all life, Who states in the Holy Quran that unjustified killing of one person is tantamount to the killing of all humanity.
Post Traumatic Stress Disorder is the direct result of the indiscriminate killing of and assaults upon innocents. The symptoms are the physical expressions of the violently disturbed soul of the perpetrator caused by the sin connected to their offensive actions. This is why the toxic drugs prescribed by the doctors who attempt to treat these soldiers, which have been shown to exacerbate psychiatric problems, fail miserably and even induce manic and suicidal behaviors.
Overwhelmingly, soldiers report that the carnage and savagery of the wars in occupied lands was 'not what I signed up for' and are filled with regret and sorrow. For those individuals, an invitation is being extended that healing may be obtained through EGM – the El Gilani Methodology, a unique method of therapy that addresses the source of psychiatric maladies – the soul. EGM has been the only clinically proven modality that affects the complete cure of spiritual and physical diseases. The founder of EGM, His Eminence Sheikh Mubarik Ali El Gillani, invites that person who believes in One Almighty Creator, is willing to live by the Ten Commandments and commit to reforming all actions which are forbidden or offensive to the Almighty to partake of this opportunity to regain their health and a renewed life filled with peace, hope and blessing.
Main Image: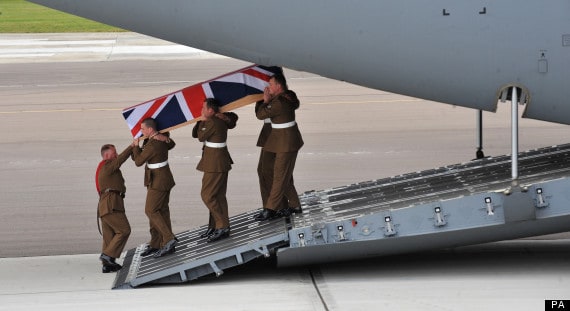 Thumbnail Image: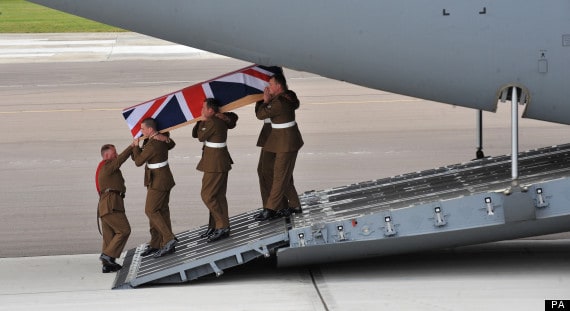 Main Image Credit:
Combat Stress described the 50 suicides in one year as 'desperately sad'