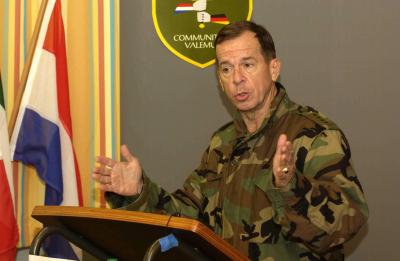 The Islamic Post
Lahore High Court Chief Justice, Khawaja Muhammad Sharif, demanded full disclosure from Pakistan's Interior Ministry on the activities of Blackwater in the country, according to the Pakistan Daily Times and other sources. Barrister Zafarullah, Mr. Sharif's attorney told the Times that ever since Blackwater stepped into the country, acts of terror and so-called suicide attacks have escalated.
Mr Sharif has also made inquiries about illegal weapons allegedly smuggled into the country by another defense company, DynCorp. According to investigative reporter, Ahmed Quraishi, DynCorp is suspected of having bribed a personal assistant to the country's interior minister to get a cache of sophisticated weapons into Pakistan without clearance from Pakistan security authorities. While the assistant is currently under arrest, only half of the weapons cache has been recovered.
Barrister Zafarullah expressed concern over the unknown location of the alleged DynCorp weapons cache, mentioning an investigative report by The Nation journalist, Jeremy Scahill, which disclosed the presence of mercenary contractors like Blackwater in Pakistan and "its hideouts in Karachi, Peshawar and Islamabad."
Scahill wrote last month: "A former senior executive at Blackwater confirmed the military intelligence source's claim that the company is working in Pakistan for the CIA and JSOC [Joint Special Operations Command], the premier counterterrorism and covert operations force within the military. …The former executive spoke on condition of anonymity."
Mr Scahill, the author of several reports and a book on the subject, claims that, according to his investigations, the mercenary Blackwater group -now known as Xe– notorious for killing unarmed civilians in Iraq, has "for years been …planning snatch-and-grab missions and targeted assassinations."
In the midst of several lawsuits lodged against Blackwater and a rising tide of media and legal scrutiny, Eric Prince, in an interview appearing in the January 2010 edition of Vanity Fair (published in mid-December 2009), confirmed in print media that he, the CEO of Xe Services, is a C.I.A. agent.
An Odd Confession.
Scahill writes that the Vanity Fair revelation was, in fact, a thinly veiled threat to the US government that the whole iceberg would be exposed if his company is federally prosecuted for its misdeeds.
Prince uses another former operative with a similar story, Adam Ciralsky, as the journalist telling the tale. "Ciralsky was a C.I.A. lawyer who in 1997 was suspended under suspicion he was having unauthorized contacts with possible Israeli intelligence agents," writes Scahill. "Ciralsky [says]…he was the victim of a 'witch-hunt' at the Agency."
Prince, apparently has similar sentiments. Ciralsky, writing for Vanity Fair, spins the story: "Prince, according to sources with knowledge of his activities, has been working as a C.I.A. asset: in a word, as a spy. While his company was busy gleaning more than $1.5 billion in government contracts between 2001 and 2009—by acting, among other things, as an overseas Praetorian guard for C.I.A. and State Department officials—Prince became a Mr. Fix-It in the war on terror. His access to paramilitary forces, weapons, and aircraft, and his indefatigable ambition—the very attributes that have galvanized his critics—also made him extremely valuable, some say, to U.S. intelligence."
However, Scahill draws comparisons between Ciralsky's praise of Prince as an undercover hero to instances in history where others facing state prosecution used the media to expose the tip of the iceberg only, with a clear understanding that more could follow. Scahill calls the move "gray-mailing."
On December 31, a US federal judge dismissed voluntary manslaughter and weapons charges against the five Blackwater guards who had been indicted for their involvement in the deaths of 17 Iraqi civilians. The Iraq government is reportedly heated and a spokesman pledged the initiation of a new case.
Ciralsky continues by explaining that Prince "is finally coming in from the cold" with his threats to the new administration, whom Ciralsky sees as "foes closing in," as he pens a more romanticized version of CIA Director, Leon Panetta's termination of the assassination program that involved Blackwater. "Shortly after 9/11," Ciralsky writes, "President Bush had issued a 'lethal finding,' giving the C.I.A. the go-ahead to kill or capture al-Qaeda members. (Under an executive order issued by President Gerald Ford, it had been illegal since 1976 for U.S. intelligence operatives to conduct assassinations.) …When the time came to train the hit squad, the agency, insiders say, turned to Prince."
Prince confirmed his involvement publicly by telling Vanity Fair he feels "betrayed" by the agency after The Washington Post and New York Times leaked the hit squads. "People acting for political reasons disclosed not only the existence of a very sensitive program but my name along with it," he told Ciralsky in Vanity Fair.
Additionally, Ciralsky says, "Up until two months ago—when Prince says the Obama administration pulled the plug—he was still deeply engaged in the dark arts. According to insiders, he was running intelligence-gathering operations from a secret location in the United States, remotely coordinating the movements of spies working undercover in one of the so-called Axis of Evil countries. Their mission: non-disclosable."
Increase in Mercenary Activity.
The apparent fall of Prince has not lessened the problem of the US government's reliance on mercenaries. According to David DeGraw of Global Research, "A Congressional Research Service investigation revealed that a record high 69% of active duty soldiers, are in fact private mercenaries." Scahill writes that, according to a recent report issued by the US Department of Defense (DoD) on the extent of the US reliance on contractors, there has been a 23% increase in the number of "Private Security Contractors" working for the DoD in Iraq in the second quarter of 2009 and a 29% increase in Afghanistan, which "correlates to the build up of forces" in the country.
Islamabad's Chief Commissioner recently shut down the operations of a major US defense contractor, DynCorp, after an illegal weapons raid on a front company, Inter-Risk, last year. "This in effect meant shutting the doors on DynCorp in Pakistan," wrote investigative journalist, Ahmed Quraishi, implying that Blackwater is picking up the slack.
Barrister Zafarullah says that the reason illegal arms and ammunition are being stored in Pakistan by foreign agents connected to Blackwater is because these materials are being used for "sabotage acts" in the country. Bill Roggio of The Long War Journal has been keeping track of major attacks at mosques, religious events, and Islamic institutions in Pakistan and says that in the past 24 months, there have been 19 such events, which have resulted in more than 400 slain worshipers and hundreds more wounded.
Whether or not the atrocities are being carried out by extremist nationals or foreign contractors bent upon a new Crusade against the Islamic World -as noted by court documents in a recent deposition implicating Blackwater- the result is the same: hundreds of innocent casualties, targeted assassinations of officials, and but a handful of dead extremists.
Warning
A year and a half ago, El Sheikh Mubarik Ali Gilani, a respected religious figure of Pakistan and the Imam of the Muslims of the Americas, issued a warning to the people of Pakistan admonishing the nation that if the practice of true Islam was abandoned, the enemies of Islam and Pakistan -which was established as a place of refuge for persecuted Muslims- would surround that nation on all sides, as happened centuries ago with the Crusades, after the Muslims of Spain immersed themselves in irreligious and immodest practices. Likewise, in a Special Edition of The Islamic Post (November Volume II, 2009), El Sheikh Gilani advised the new marauders that Gulf War syndromes and economic disasters will not be the end of troubles resulting from the atrocities committed falsely in the name of the American people. May God save Pakistan and America.
Main Image: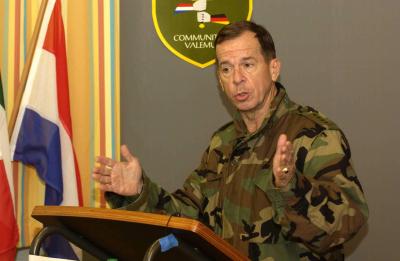 Thumbnail Image: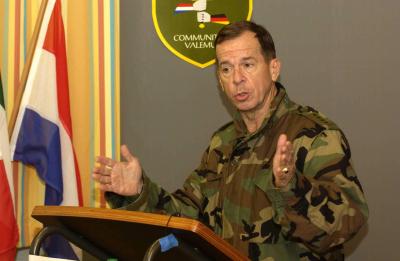 Main Image Credit:
The Nation journalist, Jeremy Scahill revealed during an interview with American anchorperson Laura Flanders that he had received a call from Admiral Mike Mullen's office, which he received as a threat, on account of his extensive reporting on the activities of Blackwater in Pakistan.