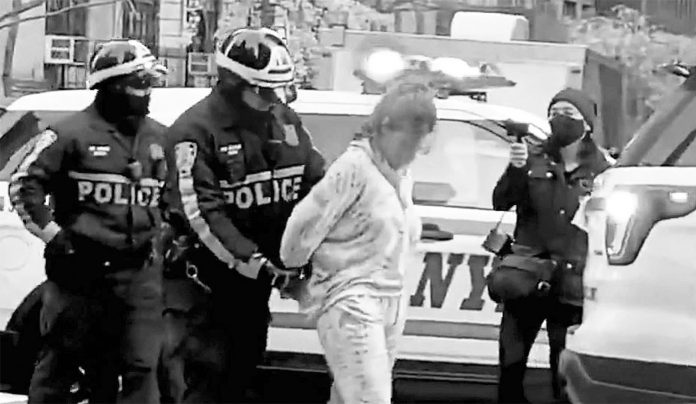 A demonstration that began in Times Square and continued through Manhattan ended on 39th Street and Third Avenue in New York City when several people were hurt and rushed to the hospital after 52 years old Kathleen Casillo of Howard Beach, Queens plowed into them in the Murray Hill neighborhood on Friday, December 11. The driver, described as a redheaded woman, was taken into custody by police.
According to witnesses, a woman driving a blue BMW sedan plowed into a crowd of approximately 70 protesters around 4pm. Although unsure how many people went to the hospital, 6 were reported injured. Members of the crowd were there to march in solidarity with undocumented immigrantst who have been on a months' long hunger strike in detention in New Jersey – held in the custody of the United States Immigration and Customs Enforcement.
Mr. Christian Resseguie, a civil rights attorney who was participating in the march, said the impact of the crash was taken by protesters on bicycles. Resseguie witnessed victims with broken bones and lacerations caused by the BMW driver. Another witness said she saw the car driving through the crowd with two white women, one driving and the other in the passenger seat. She witnessed victims flying through the air from the impact of being hit by a car.
A nearby store's security camera captured the vehicle careening into protesters that were knocked to the pavement with their bikes. Angry members of the crowd were shouting at her from the sidewalk. Several people appeared to chase the vehicle. The car's windshield was shattered from the bodily and physical impact.
This is not a unique incident in the United States. People have been mowed down and killed while attending protests, taking a stand, and advocating socially on many occasions over the years. Whether or not it was intentional, un-intentional or just a horrific accident has not been specifically stated. The driver has now been charged with reckless endangerment. This fact leaves many to wonder how plowing through human beings with a car does not qualify for more severe charges. Instead, Casillo was released from the 17th Precinct on an appearance ticket.
The soul of America is hurting.  While Americans are battling coronavirus, countless sick and dying, we also continue to battle the social issues afflicting our society such as racism, mass incarceration, unemployment, the handling of immigration issues, protests and demonstrations, and all of the intended and unintended consequences that come with that.  As citizens of this great nation, we need to work collectively to ensure each and every one of us are guaranteed safety, whether at school or a protest, whether at the hands of police or fellow citizens.  At some point, healing must enter our national conversation on a level that mandates it as a social requirement.  The time is now!