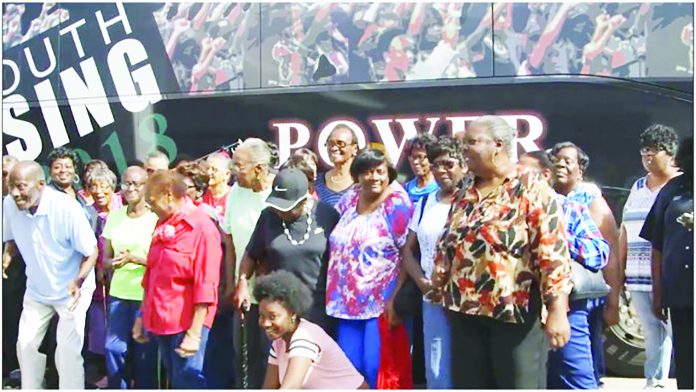 Forced to disembark the bus taking them to cast early voting ballots, African American senior citizens from Jefferson County, Georgia were dismayed and shocked.  The director of the senior center reportedly prevented them based on the county commissioner's decision after a county clerk called and voiced concerns. Allegedly it was believed that the group that arranged the transportation, Black Voters Matter, could be construed as a "political activity".  Political activity is disallowed at events sponsored by the county. In the end, intimidation was utilized to enact voter suppression in 2018.
Concerns of voter suppression have become a topic of national conversation not limited to any one state.  Political groups, universities, racial justice supporters, etc. are tackling this matter that has become increasingly concerning.  A survey completed by the Public Religion Research Institute and The Atlantic magazine, found that people of color (African American and Hispanic) face barriers at the polls as well as diminished political rights in comparison to Caucasian citizens.  Various aspects of voter suppression include structural and historical barriers like the after-effects of 'Jim Crow' racial discrimination, election laws that are restrictive, and the general hardships people of color face when it comes to voting; also included are voter ID requirements.
Thus far, incidents of voter suppression appear to be advantageous for the Republican Party.  There is documentation of numerous Democrats unable to vote due to lack of proper ID, and general complaints that span across states such as  North Carolina, Wisconsin, Georgia, Arizona, Indianapolis, Washington, Texas, Wisconsin – and the list goes on.
The Schomburg Center for Research in Black Culture hosted Emory University's Professor of African American Studies, Dr. Carol Anderson, to discuss the history of voter suppression and continuous disenfranchisement of African Americans in this regard.  Dr. Anderson's teaching examines how race and equality in the United States links to our domestic policies. The nature of this highly important issue is exacerbated in current politics and continues to be an undeniable problem. It is incumbent on policy developers, educators and political organizations to devote time and energy to discuss and enact solutions that will disallow these anti-democratic incidents from occurring.
The importance of this issue is marked by the recent NBC News – Wall Street Journal survey signifying Democrats leading in the polls against their Republican counterparts a mere 6 weeks before the election.  The current point margin of 12 percent has the ability to shift control of Congress and the Senate from Republican to Democrat. Opposition to voter suppression and Trump policies may have deteriorated Republican support beyond repair.  Additionally, there is increasing controversy of the Trump administration's support for Saudi Arabia after the Jamal Khashoggi murder in Turkey, and the war in Yemen that continues to create staggering numbers of civilian deaths, starvation, and cholera.  Thus, Democrats have signaled a desire to re-examine the controversial relationship between the U.S. and Saudi Arabia.
America's quagmire of political issues and policies makes the upcoming midterm elections more than interesting.  Stakes are high, which makes voting of critical importance. Voter suppression will be challenged more than ever, and rightly so.  All Americans will be anxiously awaiting the election results to learn whether or not there will be major changes to the current Republican stronghold in Washington.
Islamic Post Editorial