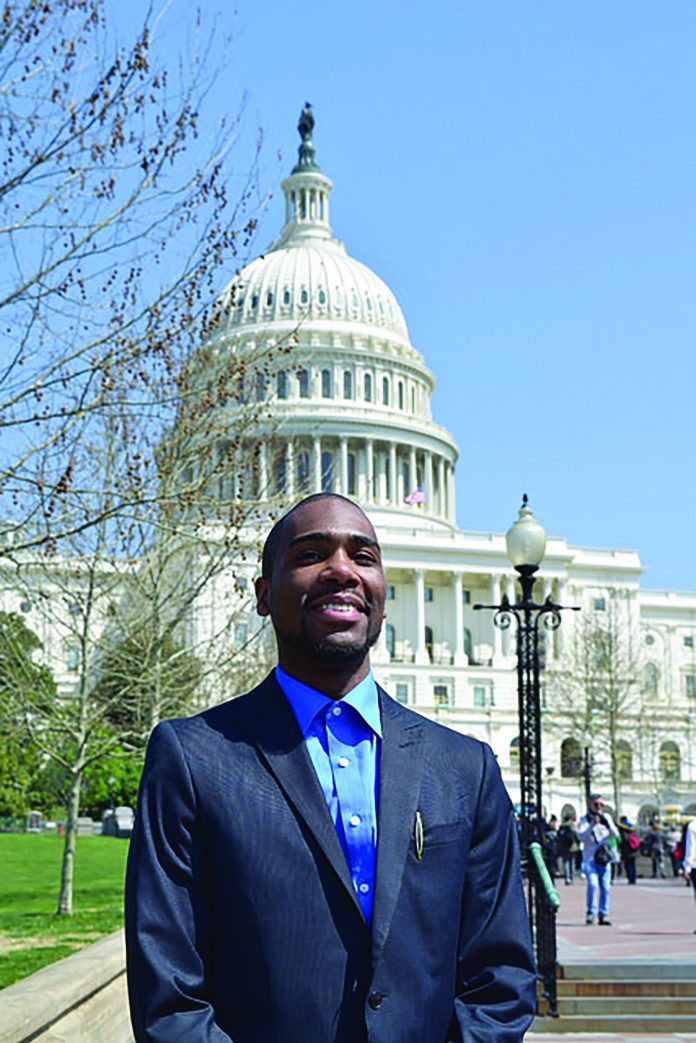 In March, The Islamic Post covered the story of undergraduate student Abdul-Mannan Giles being awarded an opportunity to participate in the Annual Posters on the HIll event hosted by the Council on Undergraduate Research (CUR). The CUR Poster on the Hill website describes the the competition,"…Approximately 60 students from all over the country are selected on a competitive basis, out of a pool of approximately 600 applicants, to present their research posters to invited guests such as Senators, Congressional Representatives, Congressional Staff, federal agency program officers, and the science press corps. Students have an opportunity to meet with their Representatives, attend field trips, and hear from speakers who are innovators and supporters of undergraduate research."
Abdul-Mannaan's day on Capitol Hill began with meetings with Congressmen from Kansas. He met with both the Senior and Junior Senators, Pat Roberts and Jerry Moran respectively and with Representative Ron Estes. Mr. Giles was well received in each office and given the opportunity to describe his research and advocate for more interest and increased funding for undergraduate academic research.
After an active day of traveling by foot through Capitol Hill, Abdul-Mannaan headed to the Rayburn building to prepare for the Posters on the Hill display. Featured were posters from undergraduate students representing such varied topics as studies about the health care of refugees, what it was like to wear a scarf for a year, and predicting the time it takes stars to die. Also in attendance were distinguished guests, some of whom included supportive community and family members. Abdul-Mannaan had the opportunity to explain his research and make new connections with those who could assist him in continuing it.
The Research
The Islamic Post was able to listen in while Mr. Giles answered questions about his research. Standing next to his poster titled, "Profiling miRNA with Protein Metabolite Expression in Plasma as a Diagnostic and Treatment Biomarker for Early-Stage Alzheimer's Disease", Mr. Giles described the subject matter and processes of his research, stating that it had taken two years and over $7,000 in research funding to formulate his findings.
Jemille Smith, MD, who also writes for the Islamic Post, summed up Abdul-Mannan's findings, "Mr. Giles' research displayed a very robust study attempting to develop an early screening test for Alzheimer's dementia. Currently, the clinical symptoms displayed by a patient, indicates whether or not their particular cognitive dysfunction is indicative of Alzheimer's. The problem with this is that people can have the condition long before they develop symptoms. Why is this important? The drugs currently used to treat Alzheimer's don't CURE the condition but slow its progression. Therefore, one of the benefits of an early screening test is that if we caught it earlier the effectiveness of our current drug regimens may improve.
"The premise of the testing is as follows: The primary pathology in regards to Alzheimer's is a build up of a protein called Amyloid. Our bodies have these chemicals called proteases (think of them like scissors) that clip proteins. In the case of Alzheimer's these proteases don't cut the amyloid so that your body can get rid of it. For that reason, the uncut amyloid builds up and deposits in your brain cells and cause problems. Low level build up may not show obvious clinical symptoms. Larger build ups may show, but it differs according to the individual. Again, by the time you see symptoms you may have a lot built up."
"The testing proposed by Mr. Giles' research looks for the individual components that go into making up amyloid or other chemicals in the blood that are influenced by amyloid. By doing so, we may be able to detect amyloid earlier which would likely improve outcomes in people with Alzheimer's."
Dr. Jemille expressed how such a possible screening test could likely go a long way in how we diagnose and treat Alzheimer's the world over.
Plans for the future
Mr. Giles is set to graduate from Wichita State University in May, with plans to take his Medical College Admission Test (MCAT) in August. The MCAT is a standardized multiple-choice test that has been a part of the medical school admissions process for more than 80 years.
He currently works at a hospital in Kansas City , Research Medical Center, and has several choices of Post-graduate schools. Throughout his academic studies, Abdul-Mannaan has remained involved in service to his community by teaching and tutoring over 100 students in both Spoken Arabic and other academic studies.
May the Almighty Creator continue to assist Abdul-Mannaan and bless him and his efforts as it is The Almighty that makes all things possible.
by Aisha Muqit