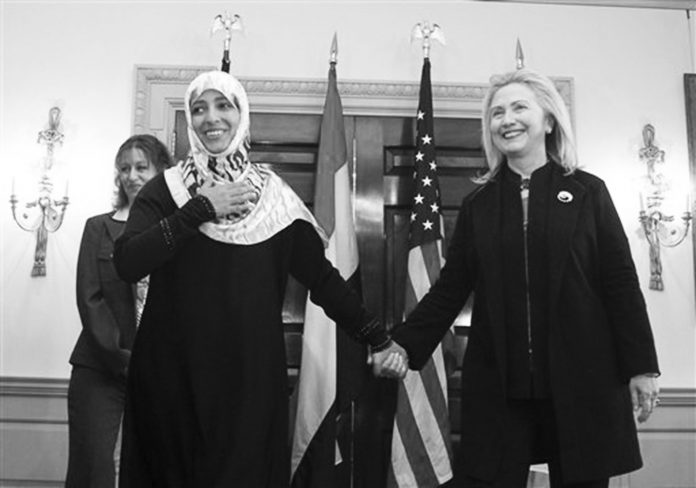 "Hijabis", as the term has now been coined, are Muslim women who cover their heads out of obedience to Allah and respect to their Islamic faith. The hijab is more important today as a symbol of womanhood than as ever before in history, especially in these times of Islamophobia when the evil and mean spirited such as Donald Trump attempt to demean these women of moral character "by choice". Trump seems to have forgotten, if he ever knew, that modern history hails nine lady heads of state in Muslim countries. This does not indicate that Muslim women are wallflowers nor does Islamic history attest to it.
And history again has been made attesting to the public presence of hijabis as Muslim ladies competed in the 2016 Olympics shattering stereotypes and false information about Islam and those that adhere to its tenets, especially in regards to Muslim women. Sara Ahmed, Egyptian weightlifter; Ibtihaj Muhammad, American fencer; Doaa El Ghobashy, Egyptian volleyball player, all competed this year in Rio wearing the hijab. It is an undisputed fact that the strength, endurance, and personal drive required to make it to the Olympics is staunch. Nonetheless, the fact that these females are outstanding athletes representing their countries and competing in global sports competitions was insufficient to silence critics who deem hijab a threat to western societies and cultures, and a step backwards for women's rights.
Further greatness of Muslim women is toted in the example of Tawakkul Karman, who was a prominent critic of the president of Yemen before the mass uprising erupted against him last January. She organized protests to demand greater rights for women and freedom of the press, and headed an organization called Women Journalists without Chains. She was later to be awarded as the first Arab Muslim woman to win the Nobel Peace Prize. Karman is known as the "iron woman" and the "mother of revolution" in Yemen.
All over the world, Muslim women are in the forefront as defenders of the faithful, the less fortunate and weaker among mankind. Even in the U.S. noted Islamic Post editorial board member and attorney Tahirah Clark, along with co-defense attorney Tahirah A. Wadud, are fighting the dangers of religious prejudices. Their recent case on behalf of The Muslims of America garnered national recognition when a picture of Muslim children threatened by terrorist Robert Doggart was presented to President Obama at the White House. Attorney A. Wadud recently was honored by Lawyers Weekly as one of its 2016 Top Women of Law.
Yet, in all their great achievements, hate speech and vicious comments regarding ladies of the veil are a direct indication of Islamophobia and anti-Muslim sentiment permeating the social fibers of the U.S. and Europe.
Irrespective of Islamophobia, hatred, anti-Muslim antics and the like, the facts remain.
Muslim women are a part of the world community and are here to stay.
Hijab is a part of the lives of many Muslim women and it is their right.
Muslims and non-Muslims committed to religious freedom, justice and respect support hijab wearing and will continue to do so.
The awesome strength of Olympic medalist Sara Ahmed can be found in the spirit of Muslim women and ladies all over the world. They will continue to fight for life in Syria, oppose oppression in Palestine, demonstrate for democracy in Egypt, and support freedom in America all while wearing the hijab. It is wonderful that at the Olympic games where nations meet, the phenomenal existence of hijab wearing Muslim athletes are represented.