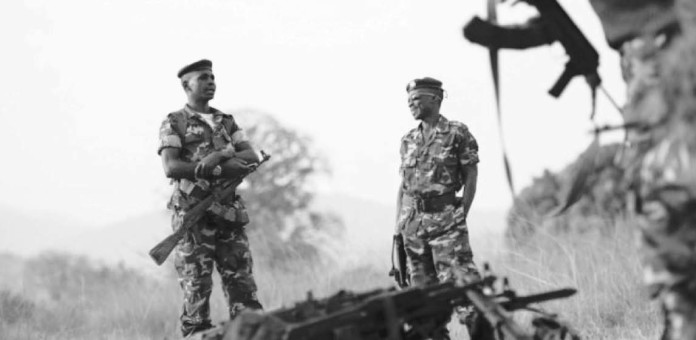 Gunmen attacked military sites in Burundi's capital and "many" assailants were killed or arrested after heavy fighting, officials and soldiers said, as Western powers fear the nation is sliding back into ethnic conflict.
Heavy gunfire and blasts erupted early on December 11 and shots were still heard across the capital Bujumbura long after daybreak. Residents said the streets were empty at a time when people are normally heading to work. Police were out in force.
Kenya Airways and RwandAir cancelled their flights to the Burundian capital, officials said, after gunmen launched attacks on military bases in Bujumbura.
"The reason we could not land is that there is no personnel," said Kenya Airways Corporate Communications Manager Wanjiku Mugo, adding that all three of its daily flights were cancelled.
Repeated attacks from anti-government forces
The violence in Burundi is unnerving for a volatile region which only two decades ago saw a genocide in next-door Rwanda.
Night-time gunfire and sporadic blasts have become common in Bujumbura during a crisis sparked in April by President Pierre Nkurunziza's bid for a third term, which opponents – often known as 'Sindumuja' – said violated a deal that ended a civil war in 2005. Nkurunziza won a disputed election in July.
Residents said the recent flare-up was much more intense.
"Sindumuja tried to attack military camps but they failed," presidential media adviser Willy Nyamitwe wrote on Twitter, describing the raids as "a diversion" to try to free prisoners.
"Situation is returning to normal as firearms are seized, many Sindumuja assailants killed or arrested," he wrote.
A soldier who had spoken to colleagues inside one of the bases in Bujumbura's Ngagara district, told Reuters at least two soldiers and five attackers had been killed.
A military spokesman could not be reached for comment.
Unrest continues months after attempted coup
Burundi's political crisis led to a failed coup in May. One of the generals behind that coup said in July the group was still seeking to topple the president. Other plotters were caught and face trial.
Experts fear the army, which was restructured after the civil war to include both professional troops and rebel fighters, could fracture and further fuel the conflict.
A deputy presidential spokesman wrote on Twitter that the cabinet was holding a scheduled meeting soon and would discuss the 2016 budget, not any state of emergency. He also said the aim of the "armed gang" was to free prisoners.
Alongside the raid on Ngagara camp in the north of Bujumbura, two southern sites were attacked, namely Muha camp and ISCAM, a higher institute for officers, soldiers and residents said.
Till now, battle lines in Burundi's crisis have followed the political divide, but Western powers and regional nations fear old ethnic rifts could reopen if violence continues unchecked.
Burundi's 12-year civil war had pitted rebel groups of the Hutu majority, including one led by Nkurunziza, against what was then an army led by the Tutsi minority. Rwanda has the same ethnic mix.