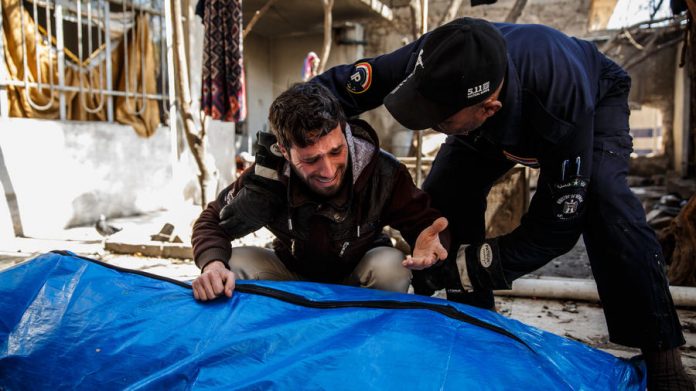 The airstrike, if found to be responsible for the fatalities, would mark the deadliest civilian casualty incident by far since the U.S. military began its involvement in mid-2014. The credibility assessment, in which the military gathers and analyzes an array of information that is both classified and public, is expected to take two to three weeks.
The focus of the inquiry will be whether the coalition airstrike hit civilian buildings; whether an accumulation of airstrikes in the area degraded the structural integrity of buildings before they fell; or whether Islamic State detonated an explosion after the airstrike to bring structures down, according to Col. John Thomas, Central Command spokesman.
"This sort of assessment is really complex," Thomas said. "It gets especially difficult to determine what happened in certain areas of the city where the streets are so narrow that large vehicles cannot get through."
Another likely possibility is that an airstrike hit or triggered an Islamic State suicide car bomb. Militants have deployed the mobile bombs, in which a driver will blow himself up in the face of advancing Iraqi forces. Witnesses said militants parked a truck packed with explosives on their block days before the airstrike, then forced families inside their homes as they lingered outside, sniping from roofs.
Some saw militants shooting at aircraft before the strike, then saw the truck explode during the attack. United Nations officials said they were "profoundly concerned" by the allegations surrounding the airstrike.
More than 200 civilians killed in suspected U.S. airstrike in Iraq
"We're incredibly worried about what is happening in western Mosul. It's much, much, much worse than the east for civilians," Lise Grande, the U.N.'s humanitarian coordinator for Iraq, said recently.
The military is investigating at least a dozen other reports of civilian casualties in Mosul.
The Pentagon has acknowledged 220 civilian deaths from coalition airstrikes in Iraq and Syria since the U.S. campaign against Islamic State began in 2014. Independent monitoring groups such as the London-based nonprofit Airwars put the casualty figures much higher, at about 2,700 civilians killed in airstrikes in both countries during that time.
"Our goal has always been for zero civilian casualties," the Pentagon stated. "But the coalition will not abandon our commitment to our Iraqi partners because of ISIS' inhuman tactics terrorizing civilians, using human shields, and fighting from protected sites such as schools, hospitals, religious sites and civilian neighborhoods."
There were reports that Iraqi forces had halted operations across Mosul in response to the airstrike, but officials said that wasn't true.
"We didn't stop our operation. Our operation is still ongoing, but it's not like before," said Raed Shaker Jawdat, Iraq's federal police chief.
"We are now going slowly," he said, because the Old City area where they have been fighting is densely populated. Iraqi leaders called for investigations into the strike, and greater restraint by forces fighting to free Mosul.
Pope Francis demanded urgent action to protect civilians in Iraq, saying forces involved in the battle for Mosul have an obligation to protect innocents following a recent spike in civilian casualties.
Francis issued a special appeal for peace in Iraq at the end of his general audience. He greeted an interfaith group of Iraqis in St. Peter's Square, encouraging them in helping Iraq find reconciliation among various ethnic and religious groups.
Francis said that he was particularly concerned about Iraqis trapped by recent fighting to take Mosul back from Islamic State group militants.
"In expressing profound sadness for the victims of the bloody conflict, I renew my appeal that everyone commit themselves to using all efforts to protect civilians, an imperative and urgent obligation," he said.
The U.N. human rights office has called on the U.S.-led coalition conducting airstrikes on Mosul to minimize civilian casualties, saying at least 300 people have been killed since mid-February including 140 from a single March 17 airstrike incident on a house. The U.N. says IS militants are using human shields and setting a trap for the coalition.
Amnesty International has said the rising civilian death toll suggested the U.S.-led coalition wasn't taking adequate precautions as it helps Iraqi forces try to retake the city, though the U.S. has denied any loosening of the rules of combat.
The Iraqi group that met privately with Francis before the audience included Shiite and Sunni Muslims as well as representatives from Iraq's Christian, Yazidi, Sabei and Mandei minorities. The delegation engages in dialogue with the Vatican's office of interfaith relations.