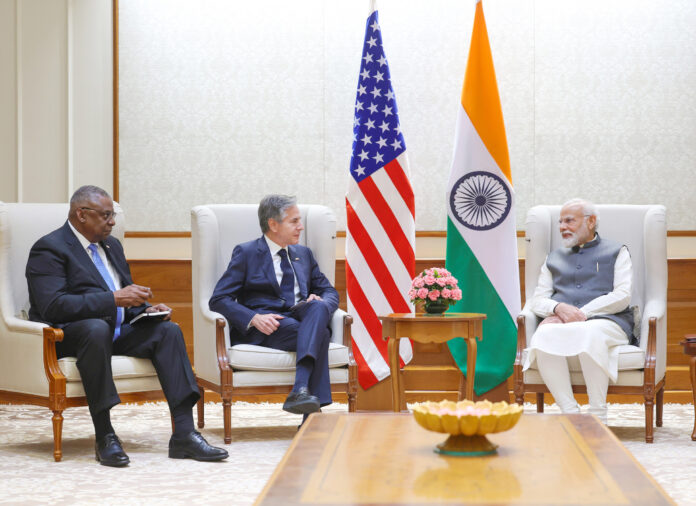 This week, three US government officials made their way to India. Secretary of State Antony Blinken and Defense Secretary Lloyd Austin on November 10 and Assistant Secretary of State for South and Central Asian Affairs Donald Lu on November 4, with a delegation to prepare the way for talks. The US is apparently very committed to improving relations, despite the fact that India hasn't been shy about its agenda to develop a new global hierarchy and sit at the top of the same. 
PM Narendra Modi spoke with Iran President Seyyed Ebrahim Raisi, just a few days before the visit of US officials, assuring him that he would do everything possible on the world stage to bring a ceasefire to Gaza to stop civilian deaths and displacements. This comes at the same time that Michael Kugelman wrote in the Foreign Policy magazine that "India views the war through a counterterrorism lens, and its position has been nearly in lockstep with that of the United States, a close ally of Israel," on November 8.
The Hindu notes that Modi has been busy in developing India's global diplomatic status, speaking on November 3 to "President of the United Arab Emirates Sheikh Mohamed Bin Zayed Al Nahyan regarding the war which was followed by a telephonic discussion with Prime Minister Rishi Sunak of the United Kingdom."
The news outlet also states, "Prior to that he spoke to the President of Egypt Abdel Fattah El Sisi, President of the Palestinian Authority Mahmoud Abbas and the Prime Minister of Israel Benjamin Netanyahu."
While Modi assumed more of a neutral stance regarding Gaza in October, and banned Muslims in Indian-occupied Kashmir from protesting against the genocide in November, he nevertheless "described the Israeli bombing of hospitals, schools, mosques, churches and residential areas as 'unacceptable from the point of view of any human being,'" according to The Hindu.
The news site noted,"The two leaders [Modi and Raisi] earlier met on the sidelines of the 15th BRICS summit held in Johannesburg from August 22-23 where the BRICS grouping welcomed Iran as a member state along with Saudi Arabia, the United Arab Emirates, Egypt, Argentina and Ethiopia."
Indian officials also spoke with Russia last month about "strengthening the[ir] special strategic partnership" ahead of the G20 Parliamentary Speakers' Summit on October 12, according to Zee Biz, another Indian news site.
Voice of America news claims, "Washington hopes a tighter defense relationship will help wean India off Russia, New Delhi's primary military supplier."
Carnegie Foundation reporting also mentions the Indo-Russian relationship in "India in the Emerging World Order," noting how India apparently took "advantage of Western sanctions on Russia by purchasing cheap oil in bulk. In 2022, India went from importing almost no Russian oil to importing over 1 million barrels per day, the price of which had been depressed by the sanctions regime."
State Department spokesperson Matthew Miller said about Antony Blinken's visit with PM Modi on November 10, "Secretary Blinken and Prime Minister Modi reaffirmed the United States' and India's shared vision for close partnership in the Indo-Pacific and on issues of global importance. They emphasized working together to address ongoing crises such as Russia's war against Ukraine and the conflict in the Middle East. The Secretary also congratulated the Prime Minister on India's successful G20 presidency and discussed initiatives to expand our strategic partnership…"

Prime Minister Modi, noted about the visit from US officials in a press release from the Press Information Bureau that "the Comprehensive Global Strategic Partnership between India and the U.S. is anchored in democracy, pluralism, and respect for rule of law."