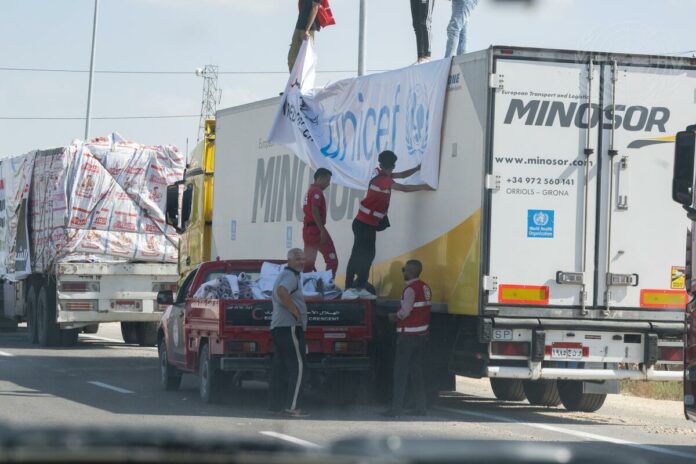 After Qatar mediated talks between Egypt, Hamas and Israel, the Rafah border opened on November 1 to allow some medical aid, food and water to enter Gaza and some 345 foreign passport holders and 81 critically injured Palestinians to exit, according to the United Nations Office for the Coordination of Humanitarian Affairs (OCHA).
Only 55 trucks were allowed through, and these from the Egypt Red Crescent, carrying aid from Egypt, Qatar and Turkey. Fuel for hospitals is banned by the Israeli government from entering Gaza and the food, water and medical supplies that did enter were only a small fraction of what is needed.
"14 out of 35 hospitals with inpatient capacities across Gaza are not functioning," reads the OCHA memo, having no electricity and no fuel to operate generators. 8,805 people, of whom about two-thirds are children and women, have been martyred and 1.4 million Muslims and Christian Palestinians are displaced. Tens of thousands are sheltering at hospitals.
According to Egypt Today, in an article posted on the State Information Service of Egypt, the foreign nationals who were evacuated are from Japan, Bulgaria, Indonesia, Jordan, Australia, Czech Republic and Finland. The report also stated "Egypt is currently intensifying its communications to ensure the smooth exit of the wounded and foreign nationals according to the numbers agreed upon between the various parties."
Scotland's first minister Humza Yousaf said on October 29 via Twitter that his parents-in-law, who had been visiting family in Gaza, are still alive, but like most people have run out of clean drinking water.
Assistant Foreign Minister for consular affairs and Egyptian expats, Ismail Khairat, said "preparations in Egypt are in full swing to facilitate receiving and evacuating 7,000 [additional] foreign nationals" from different countries.
Egypt nevertheless confirms through Diaa Rashwan, the Chairman of Egypt's State Information Service (SIS) that it "will never accept the displacement of any Palestinian into Egyptian territory after what was published and broadcast about the plans of the Israeli side to forcibly displace Palestinians to Egypt under the threat of the weapon."
While calling for a ceasefire and sustained opening of border crossings for the entrance of aid, Rashwan also called what is going on in Palestine a resistance. "Resistance is the right of all peoples. The resistance always wins and takes its time."