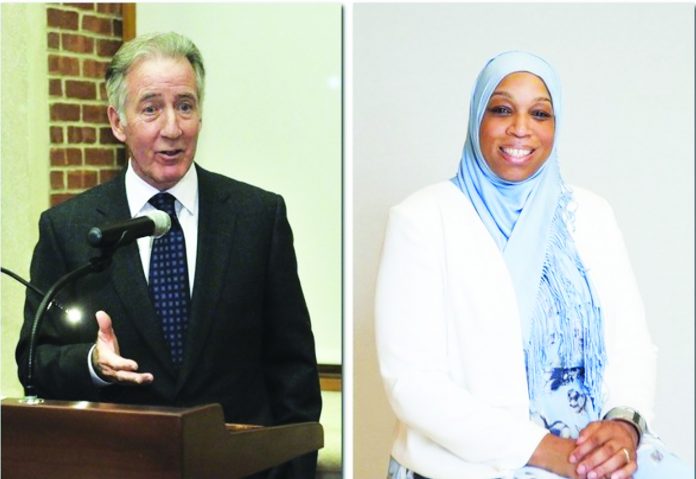 SPRINGFIELD — U.S. Rep. Richard Neal and Springfield attorney Tahirah Amatul-Wadud will both officially appear on the September ballot, setting the stage for a primary showdown — the first for Democrats in the 1st Congressional District in six years.
Secretary of the Commonwealth William Galvin's office confirmed on Wednesday, May 9 that Neal and Amatul-Wadud had each been certified for the ballot after turning in more than the 2,000 voter signatures, as well as other documents, needed to take part in the Sept. 4 primary.
Neal, who was first elected to Congress in 1988, had filed at least 2,700 certified signatures with the secretary's office as of May 8 — the deadline for federal and statewide candidates to submit nomination papers to local election officials for signature certification.
Amatul-Wadud, a member of the Massachusetts Commission on the Status of Women and board member for the Massachusetts Council of American-Islamic Relations, in turn, had submitted at least 2,300 certified signatures to the secretary's office as of Wednesday, according to a nomination papers receipt shared by her campaign.
The First Congressional District has not had a contested Democratic primary since redistricting in 2012, when Neal — who had represented the state's 2nd Congressional District for 24 years — soundly defeated Andrea Nuciforo Jr. and Bill Shein, receiving nearly two-thirds of the vote.
The congressman, who serves as the Ways and Means Committee's top Democrat, was re-elected to the U.S. House in 2016 with 73 percent of the vote.
Amatual-Wadud, who announced her bid to unseat Neal in December, thanked her campaign's supporters for helping her make the ballot.
"I am excited to have met this milestone ensuring that people will see my name on the primary ballot and get the chance to voice their support for my candidacy in September," she said in a statement. "I thank the amazing, dedicated volunteers throughout central and western Massachusetts who believe in our campaign and our message."
The Democrat's campaign noted that it continued collecting signatures through the May 8 deadline in order to "give voters the chance to sign forms for this historic campaign and to secure a strong representation of cities and towns" ahead of the primary.
The number of certified signatures submitted by the campaigns is likely to increase, as candidates have until June 5 to file nomination papers with Galvin's office.
by Shannon Young
[email protected]