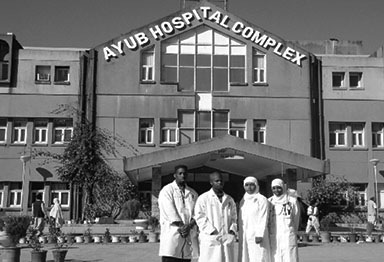 In an unfortunate and unprecedented set of circumstances, the Pakistani Young Doctors Association has led a nearly two-week long strike protesting compensation, duty hours, as well as other working conditions. This work-stoppage by the doctors has virtually paralyzed medical services and has led to immeasurable suffering and the tragic loss of life.
Under the direction of the Vice Chancellor of the Quranic Open University, His Eminence Sheikh Syed Mubarik Ali Shah Gilani, the American Muslim Medical Relief Team (AMMRT) has offered to dispatch a team of medical professional volunteers in response to Pakistan's public health crisis.
Dr. Jemille Smith, physician and co-founder of AMMRT, is preparing to return to Pakistan this month in the spirit of service to those who are enduring this unfortunate situation of not having medical professionals readily available. In 2005, after the catastrophic earthquake in Pakistan, Dr. Smith, along with other members of AMMRT, travelled to Pakistan and provided medical relief to victims who were severely injured during the quake.