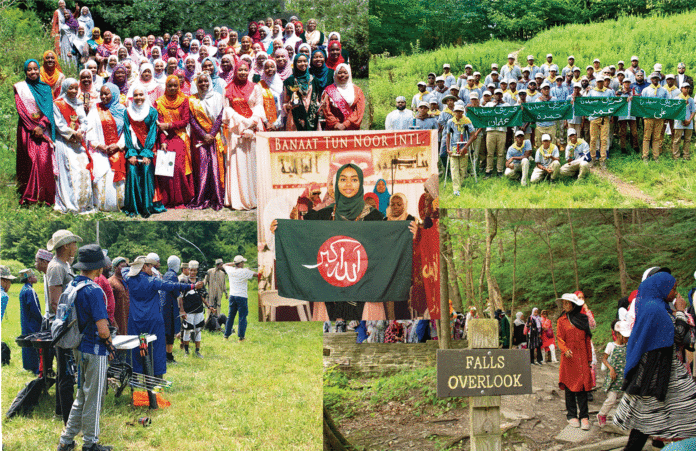 By Aisha Muqit, IP Staff
'…So remember Me; I will remember you…' (Surah 2 Ayah 152)
'…And whoever saves one – it is as if he had saved mankind entirely…' (Surah 5, Ayah 32)
Quoted often by His Eminence El Sheikh Syed Mubarak Ali Shah Gillani these lines of Holy Quran embodies the spirit of the youth summer programs that have continued annually for over 30 years.
During the months of June and July 2022, The Muslims of America once again hosted its annual summer programs for both ladies and men as established under the blessed guidance and direction of His Eminence El Sheikh Syed Mubarak Ali Shah Gillani (Allah's Rahmah upon him) and overseen by his spiritual heir, Sheikhah Umm Noor Hussein. Although the programs were interrupted for two years due to the Covid outbreak, this tradition has continued for over 30 years. 
Located in both Holy Islamberg and Maryamville, New York, respectively, the BNI Ladies Program and the MSA Young Men's Program featured a schedule that began before sunrise with intense dhikr (remembrance of the Almighty Creator) and ended hours after sunset with group recitation of the Holy Quran. Classes were taught by experienced teachers and graduates of the prestigious Al-Azhar University located in Cairo, Egypt. Each class was carefully chosen and presented a well-rounded course in Islamic education. The schedule included classes in Tilaawatul Quraan, Hadith, Standard Spoken Arabic, Tafseer ul Quraan, Arabic calligraphy, Usway Rasuli Akram (May Allah's peace and blessings be upon him) lessons from the book which presents a written description of the daily practices and habits of the Holy Last Messenger Muhammad, peace and blessings be upon him, Islamic History, as well as a rigorous physical activity routine.
Video Discourses
As the Spiritual Leader of the Qadri Order, Sheikhah Umm Noor Sahibah gave classes in Sufic sciences via video discourse. This was in keeping with the tradition started by His Eminence where camp participants were able to benefit from the spiritual and Islamic heritage of the Qadree Saints.
Muslim Scouts of America
Attendees of the MSA Summer Program were honored to be instructed by Hafiz (one who has memorized the entire Holy Quran) Shafiq A. Sabur and Hafiz Usman. MSA scouts received a comprehensive Islamic studies education. The MSA program also featured physical activities focused on building strength, character, teamwork, and healthy competitiveness. Every day, after their academic and Islamic studies, scouts participated in grueling training programs designed to build their strength and endurance. Scouts also participated in team sports and the
ancient wrestling sport of Kabuddy. Overall, MSA programs inspire brotherhood and unity, with the shared goal of continuing the
mission of His Eminence. Standing in tight ranks five times a day for Salaat and intense dhikr circles, scouts were able to experience the feeling of Islamic brotherhood that His Eminence referred to as "Akhuwaat", which is a bond stronger than blood relations.
Banaatun Noor (Daughters of Light)
Banaatun Noor International is an organization originally founded by His Eminence in 1984, with the motto and stated goal of "Bringing people out of the darkness into the Light". With that goal in mind, The BNI program was specifically designed to promote the ideal Muslim lady – one who is well educated and able to fulfill her responsibilities to her Almighty Creator, her family, her community and herself.
Ladies are the backbone of any community, a fact illustrated in the well known hadith of the Holy Last Messenger, (peace be upon him), "Jannah lies at the feet of the Mother" and in the well-known quote, "The first university is the lap of the Mother". Therefore, the BNI summer programs focus on skills that will ensure the participants obtain an extensive education, covering all aspects of life. In addition to religious studies, BNI also incorporated classes on cooking, roti (flat bread) making, and handicrafts such as knitting, crochet, embroidery, sewing, jewelry making, and basket weaving. The additional activity was public speaking, with classes in oratory, debate, and speech writing. Of course, any well-rounded education program must include a physical activity component; this year BNI initiated the BNI Olympics, featuring archery, track and field, volleyball, double dutch jump roping, and basketball. A new addition to the summer program curriculum was STEM (Science, Technology, Engineering, and Mathematics) projects.
Character Building Through Adventure
Hiking was another aspect of the MSA and BNI Summer Programs originated by His Eminence, and as stated in his video documentary Adventures in the Himalayas, this program is aimed at developing, nurturing and strengthening the character of young people. MSA's hiking trek was nearly 10 miles, while the BNI ladies undertook a challenging hike up a rustic trail along the Buttermilk Falls in Ithaca, NY.
Young men and ladies from ages 14 and up, as well as more mature adults up to 60 plus, converged at the Muslims of America village in beautiful upstate New York from many locations – some traveling from as far away as Canada and Pakistan. At their respective campsites, they lived, studied, and worshiped together for nearly 40 days, some even enjoying the outdoor experience of camping out in tents. They united in a blessed quest to attain knowledge, and also take advantage of the unique social component of the MSA/BNI programs. New bonds of friendship and fellowship were formed and old ones were strengthened. At the close of the enlightening programs, faces were shining bright, manifesting that their spiritual 'candles' had been lit; they were now ready to go forth and enlighten others.
Indeed, as quoted by MSA Administrator, Muhammad Ahmad Qadri, "The commitment of the administration, staff, and participants manifested a desire towards furthering the legacy and agenda of our beloved Murshid Kaamil which is bringing others out of darkness(of ignorance and apathy) into the light (of knowledge and spiritual enlightenment). One testament to how great His Eminence is – is that One Person rescued thousands, and in turn, made many of them into rescuers themselves."