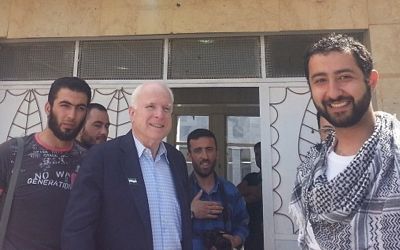 Daesh, also known as ISIS, ISIL, and Al Qaeda (Al Nusra, Boko Haram, and Al Shabab are all offshoots of Al Qaeda), was birthed in Iraq around the year 2004, while George W. Bush was President of the United States. From 2004 – 2008, Daesh slaughtered Muslim women, children and men throughout Iraq, committed mass rape, torture, and theft against other Muslims, a scenario never witnessed or recorded in the history of Islam. These coordinated forces then mobilized into Syria to continue spreading death and darkness.
At the same time, Muslims from the Middle East to North America were asking pertinent questions:
Who is this Daesh, whose actions and practices are anti-Islam?
How did they materialize and organize over night without any previous social or community presence?
What or who is the source of their financial backing?
What is their real agenda?
It became clear to the international Muslim community that Daesh were being funded and trained covertly by the United States and its intelligence apparatus. Harvard University scholar Garikai Chengu intoned that Daesh, "is made-in-the-USA, an instrument of terror designed to divide and conquer the oil-rich Middle East and to counter Iran's growing influence in the region". Daesh, however, did not just materialize out of thin air and its origins predate 2004.
It is documented and a well-known fact that during the Reagan administration, the Central Intelligence Agency spent approximately 10 years training jihadist from the early 80's to 90's. There were camps set up in Pakistan to provide recruits with training to fight in Afghanistan against the Soviet Union. Russians were the prime enemies to the United States at the time and no expense was spared to assist in them losing the Afghan-Russian war. Prof Michel Chossudovsky of Global Research explained that, "Osama bin Laden, America's boogyman and founder of Al Qaeda, was recruited by the CIA in 1979 at the very outset of the U.S.-sponsored jihadist war against Afghanistan. He was 22 years old and was trained in a CIA-sponsored guerilla training camp" (globalresearch.ca). Essentially, the man the United States government claims was responsible for 911 was trained by and worked for the U.S.
Canada's Global Research are not the only ones writing about the United States connection to Daesh. Newsweek published an article in June of 2017 entitled, Iran Claims U.S. Is supporting ISIS and That It Has Evidence to Prove It. After suffering a major attack on the Ayatollah Ruhollah Khomeini's shrine by five Iranians who had been radicalized by ISIS, the Iranian government had to confront Daesh terrorism directly. The article notes that the Deputy Chief of Staff of Iran's armed forces, Major General Mostafa Izadi stated, "We possess documents and information showing the direct support by the U.S. imperialism for this highly disgusting stream (ISIS) in the region which has destroyed the Islamic countries and created a wave of massacres and clashes." Izadi did not provide any further detail but the firm and resolute way he imparted the information has more than just the Islamic Republic of Iran paying attention.
Turkish President, Recep Tayyip Erdogan, stated at a press conference that the U.S. supports Daesh (Islamic State). He declared, "Now they give support to terrorist groups including Daesh, YPG, PYD. It's very clear. We have confirmed evidence, with pictures, photos and videos." Although the U.S. State Department rejected Erdogan's statements, their spokesman Mark Toner used veiled and subjective language to deny these claims. For example, Toner stated, "We do provide support to Syrian tactical forces, there is no surprise there." "We have never provided weapons to the YPG. We have provided weapons to the vetted Arab elements of the Syrian Democratic Forces". Translation – we support Daesh.
Behind Daesh and their many names is the truth. That is, the evolving of these fake Muslims was created as an instrument of conquest, inspired by greed. The political and economic agenda has been carved out by the United States and its allies that have chartered a course that will allow them to control the Middle East. The destruction of Iraq, decimation of Syria, and the takeover of African countries with natural resources is necessary to see their perfidious plans through.
The United States treasury compiled data that Daesh revenue could be estimated at $500 million in smuggled oil revenue of which Israel is the primary buyer. Funding has also come from Arab countries in opposition of Syria's Assad regime. Collection of this data was never intended to be used to put a stop to these nefarious actions that are killing hundreds of thousands of innocent people and decimating entire countries one by one. Rather, it is a way for those that thirst for power and money to see how they can cash in on the action.
What do Americans think about these diabolical deeds?
Nothing at all, as they are being engineered and railroaded into thinking only of themselves and the dangers to their "liberty and freedom" that are lurking. The powers-that-be continue to brainwash American citizens into thinking there is a Muslim and Middle Eastern enemy lurking and waiting for the right time to destroy them, their children and their lives in general. This thinking is promoted via media and repeated incessantly on television, radio programs, newspapers and social media. The need to identify an 'enemy to America and its values' is necessary for creating an atmosphere of fear, and the willingness to give up one's rights. It allows the government to exert further control of the public, while profiting from the death of innocents. Roberto Fantina summarized it most poignantly in his article, Daesh: The 'Enemy' The US Created, Armed, And Funded when he wrote:
The US can, with ever decreasing credibility, pretend to stand as a beacon of freedom and liberty, arming revolutionaries and destabilizing governments that displease it, while arming allies of the country in revolution, which in turn assist that country. So this "war on terror" never ends, and neither do the abundant profits from war-making. And when possession of the moral high ground is just an illusion, when rhetoric spewed from the mouths of hypocritical politicians to get the citizenry to wrap themselves in the flag and shed a tear for apple pie, motherhood and Old Glory, and when the almighty dollar is always the bottom line, nothing is going to change.