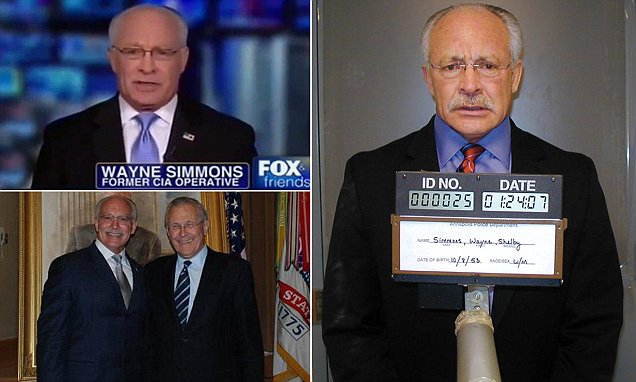 He was a popular Fox News contributor who had an audience hooked on his every word.
Appearing as a retired CIA operative, his prime time media slot even got him into the Pentagon's inner circle of military analysts – and even earned himself a meeting with Donald Rumsfeld.
But prosecutors claim Wayne Simmons has been living a lie for almost 30 years – and the alleged facade could land him a hefty prison sentence.Last October, the government charged him with multiple counts of fraud, saying he had never worked for the agency at all.
The 62-year-old from of Annapolis, Maryland, is accused of pretending to be an 'Outside Paramilitary Special Operations Officer' for the Central Intelligence Agency from 1973 to 2000.
Over the almost 30 years he ran a limousine service, a gambling operation and an AIDS-testing clinic; worked for a hot-tub business, a carpeting company and a nightclub. He even briefly played defensive back for the New Orleans Saints and tried to start up his own airline in Maryland – Simmons Air.
But he never worked for the CIA, U.S. Attorneys claim. Simmons says a short time after he began serving in the Navy in 1973, he went on to 'spearheading deep-cover intel ops against some of the world's most dangerous drug cartels and arms smugglers.'
During the alleged lie he even built up criminal convictions, according to Rolling Stone, including multiple DUIs, plus charges for weapons possession and assault.
In 2007, he was arrested in his hometown for attacking a cabdriver. He allegedly stated, accompanied by profanity,"…You can't do (anything) to me- do you know who I am?" He then insisted that he was CIA, and that the cabbie, who was Pakistani, had a bomb. A police dog found no explosives, and a CIA representative told the cops to take whatever actions they deemed necessary.
Prosecutors say Simmons used his supposed intelligence experience not only to secure time on Fox, but also earned him an audience with Donald Rumsfeld.
His apparent expertise, which on the surface was vast, also got him jobs with defense contractors, including deployment to a military base in Afghanistan.
He was also charged with bilking $125,000 from a woman, with whom prosecutors say he was romantically involved, in a real-estate investment that did not exist.
He's pleaded not guilty to the charges, and his trial is scheduled to begin February 23rd.
As recently as April, Simmons was identified on air on Fox radio as a 'Fox News contributor.' In a 2009 Fox News clip, he calls House Minority Leader Nancy Pelosi 'a pathological liar' in a segment about CIA interrogation techniques.
Fox News spokeswoman Carly Shanahan downplayed Simmons' role, saying he was never more than a guest on the network and that the reference to him on air as 'Fox News contributor' was an error.
'He was never a paid commentator,' she said.
One ex Fox News producer told Rolling Stone he may have slipped through their vetting procedures and pre-interviews as he started out appearing at the weekends. They said: 'If you want to play Talented Mr. Ripley, once you get inside, nobody's going to think twice about whether you should be there.'
While it is unclear at this time how the 62-year-old pundit was exposed as a fraud, the indictment stated that Simmons falsely claimed on national security forms that his previous arrests and convictions were related to his CIA work and that he had held a top secret security clearance.
By 2004, Simmons was appearing on a sometimes-weekly basis, often in prime-time, which caught the eye of the Pentagon's public-affairs office. Two years earlier, in October 2002, it had created the military-analysts program to help build support for the War in Iraq.
Allison Barber, who oversaw the program as deputy assistant secretary of Defense, told Rolling Stone: 'It was really about giving people with on-the-ground experience a chance to get more information.'
In his many appearances on Fox News, Simmons has made a number of questionable statements, most recently in March of last year when he claimed that ISIS could be decimated in a week if US armed forces ran thousands of sorties. He also once claimed that there are 'at least 19 paramilitary Muslim training facilities' scattered around the US.
In his private life, Mr Simmons is a widowed father of two grown children, son Wayne and daughter Allison, who got married last year. He lost his wife of 36 years, Corinne, to breast cancer in 2012. An inscription on her headstone refers to her husband as 'SN Wayne Simmons USN,' which stands for 'Seaman of the United States Navy.'
In one photo posted on Simmons' Facebook page in 2013, he is pictured as a young man wearing a Navy sailor's uniform. The caption accompanying the image reads: '1973-No longer Navy. Next stop…27 years in Outside Paramilitary Special Operations!!!'
According to Rolling Stone, he has been confined to his home since his arrest. He reportedly hasn't made a mortgage payment since 2010 and recently had his car repossessed. He is only allowed to leave his home to tend to his horses or see his doctor. Simmons asked to attend family gatherings over Christmas but his request was turned down.
A US Navy spokesman revealed to Daily Mail via email in October that he was unable to find a record of Simmons ever having served in that branch of the military.
The Navy declined to comment further on his case.
The CIA has a practice of not commenting on their agents.
Source: dailymail.co.uk