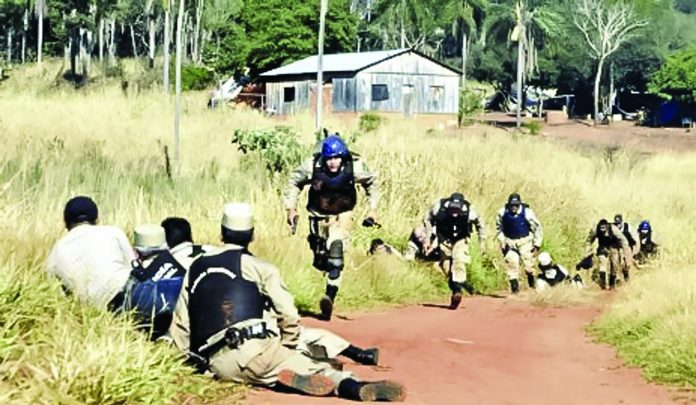 A court in Paraguay has sentenced 11 farmers to between four and 35 years in prison for the deaths of 17 people during clashes over land reform . The case has been condemned by international aid groups.
The 11 farmers sentenced in July were accused of killing six police officers in 2012 in Curuguaty, some 250 kilometers (155 miles) northwest of the capital, Asuncion.
Violence broke out after authorities ordered police to remove landless farmers who were squatting on ranch land as part of a demonstration in favor of agrarian reform.
The deaths of 11 farmers, also killed in the gunfight, were not investigated by Paraguayan authorities.
The clashes deepened political tensions in Paraguay, triggering a political crisis which led to the ouster of left-wing President Fernando Lugo.
The impeached president and former Roman Catholic bishop, who was seen as close to leaders of South America's hard left, was blamed for the police killings. In 2008, Lugo took the presidency from the right-wing Colorado Party for the first time in 60 years. Barely a year after he was removed from office, the Colorado Party took power again.
Farmers' leader Ruben Villalba was handed the stiffest possible sentence of 35 years in jail. Three other suspects convicted along with Villalba were sentenced to terms between 18 and 20 years, while a further seven men and women were handed sentences of between four and six years.
Controversial court case
As the verdicts were read out in Asuncion , demonstrators and supporters of former president Lugo rallied outside the courtroom, shouting "injustice." Proceedings were temporarily suspended while law enforcement restored order.
Paraguay drew international condemnation when charges in the case were filed only against peasants, whom the police accused of opening fire, and not police.
German aid group Misereor criticized the trial, saying it was marked by severe irregularities and partisanship.
​Land ownership has long been the cause of many bloody disputes in Paraguay. According to the 2008 census, 91.4 percent of small farmers, with properties smaller than 20 hectare, hold only 6 percent of agricultural land in Paraguay, compared to 2.6 percent of landowners who hold 85.5 percent of properties.
Source:DW.com