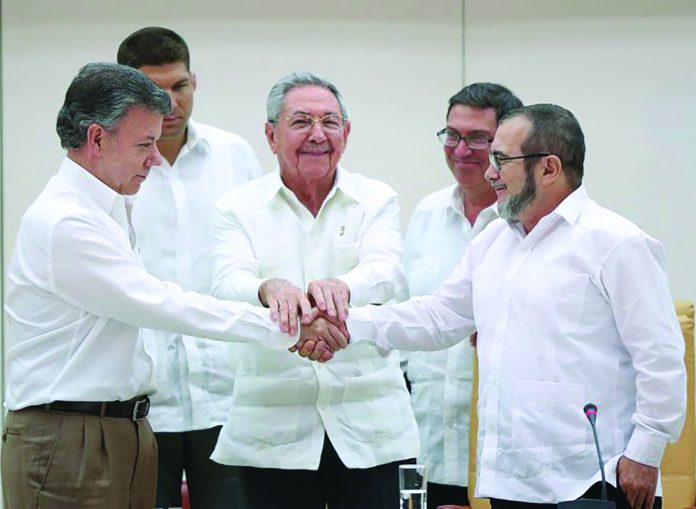 A Colombian high court has backed a government bill to hold a popular referendum on a peace deal being negotiated with rebels of the Revolutionary Armed Forces of Colombia (FARC).
After hours of deliberations, the Constitutional Court ruled in favor of holding a plebiscite to approve the historic deal that is near completion after four years of negotiations between the government and FARC rebels.
The deal is aimed at putting an end to some five decades of war between the two sides.
The court decision would allow the deal to be approved with only 13 percent (4.4 million) of the electorate. Some 33 million of Colombia's population of almost 49 million are eligible to vote.
Negotiators for President Juan Manuel Santos and FARC leaders have pledged to abide by the vote that would accept or reject peace.
"There is a green light for us, the Colombian people, to approve the peace deal with our votes," said the president.
Colombians would have to respond to only one question, with a 'Yes' or 'No' answer in the vote to be held by year end.
The decision, however, drew criticism from the former president and now opposition Senator Alvaro Uribe, who said answering with a 'Yes' or 'No' does not allow people to reject specific aspects of the treaty.
The FARC rebels signed a ceasefire and disarmament deal in June with the aim of becoming a political party. The government also expressed hope that the deal would enable a comprehensive peace accord in the coming weeks.
Santos and the leader of the leftist guerrilla group, Rodrigo Londono, will travel to the Cuban capital, Havana, in the coming weeks to officially unveil and sign the peace deal in a ceremony, with other Latin American leaders due in attendance.
The FARC is the largest rebel group in Colombia and has an estimated 7,000 fighters. It has been at war with the government in Bogota since the guerrilla movement rose to prominence in 1964.
So far, more than 220,000 people have been killed in clashes between the two sides and 6.6 million others have been displaced. Moreover, a further 45,000 people are said to be missing.