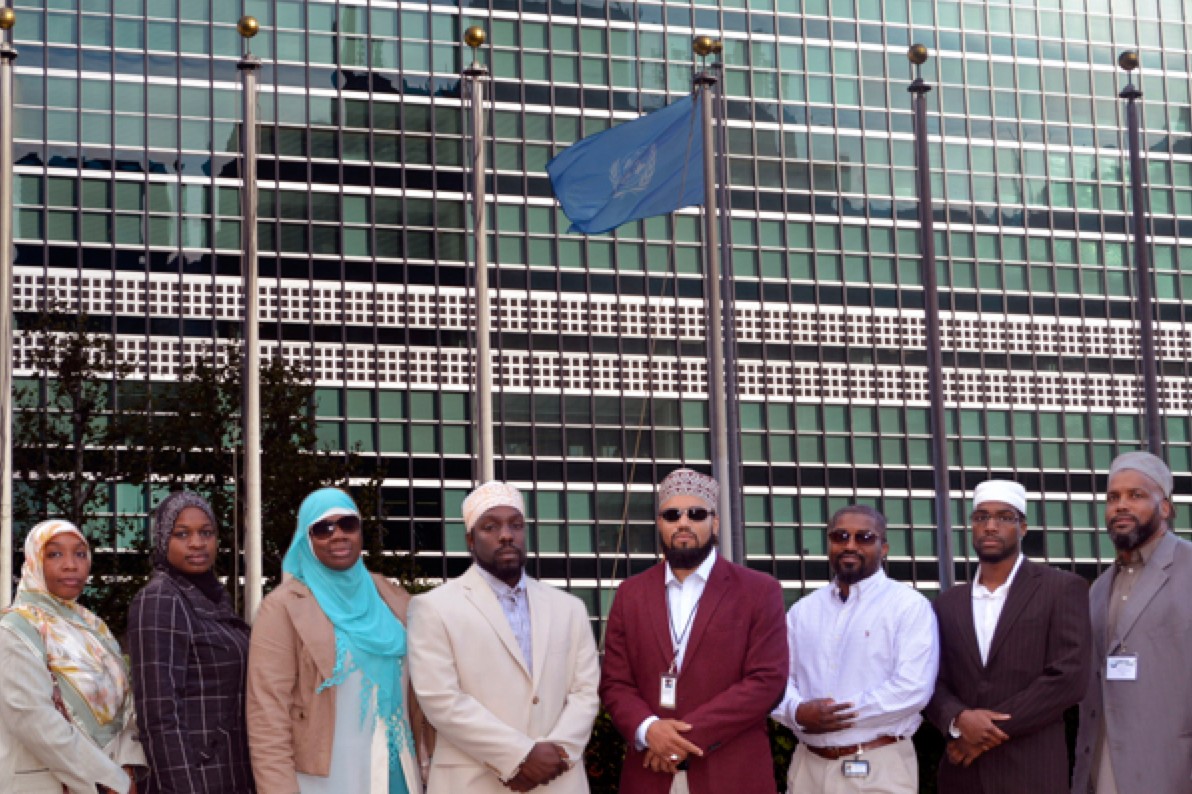 Deck:
A DELEGATION OF AMERICAN MUSLIMS PETITION THE UNITED NATIONS TO RESCUE THOUSANDS OF INNOCENT WOMEN AND CHILDREN FROM THE GRIP OF TAHIR UL QADRI WHO IS USING THEM TO ATTACK PARLIAMENT IN ORDER TO ACHIEVE HIS POLITICAL OBJECTIVES IN PAKISTAN
-The Islamic Post
August 31, 2014
Contact: Matthew Gardner
(877) 726-0412
[email protected]

NEW YORK, NY — A delegation of American Muslims representing the International Quranic Open University has visited the United Nations in response to media reports of imminent danger and lawless revolution being instigated by Tahir ul Qadri, a Canadian citizen, in the Islamic Republic of Pakistan. The group is petitioning that the Secretary General Ban Ki Moon address the precarious situation of thousands of women and children who have been suffering in the elements since August 14, without proper accommodations, before the violent confrontation that Qadri is threatening endangers the lives of these innocents who have been deceived and brainwashed into engaging in a suicidal storming of the Parliament building.

Tahir ul Qadri is using the well-known tactics of the 'Mullah mafia', which is very active in Pakistan. Their strategy is to bring innocent women and children in the forefront of
potentially violent situations hoping that when their lives are sacrificed it will garner international sympathies and enable the Mullahs to achieve their objectives. This was
done in Islamabad at the Red Masjid in 2007, when the Mullahs intentionally allowed their students to become gun fodder for the army's attack. That resulted in the current unending insurgency and violent uprising of Taliban in Pakistan. Similarly, it was unnecessary for the female staff of Tahir ul Qadri's school to guard the premises and fight with the police, resulting in deaths, which are being used to register a case against the government. The individuals who have joined Qadri's procession are mainly the staff and students of his private university along with their children. He is endangering their lives hoping that the imminent carnage will bring life to his cause. In reality, it will usher in an unending wave of bloodshed and civil strife throughout Pakistan. The government has become helpless and powerless to save those innocent lives from perishing under the harsh open skies, lack of food and shelter and finally death, when they are ordered to attack the parliament house. This must be stopped immediately.
The American Muslim scholars of Al Azhar University have passed a fatwa exposing the fact that Mr. Qadri is a fraud. Dr. Jemille Smith, MD, well-known psychiatric practitioner has stated, " I have been observing him and watching his speeches and judging from his behavior and talks, it is evident that he suffers from paranoia and delusions of grandeur. He should immediately be committed to a mental institute, and the lives of thousands of innocent people be saved before he uses them as human shields." The Staff and Students of the International Quranic Open University at Islamberg, New York demand that the UN steps in to save innocent lives before it is too late."
The United Nations is hereby requested to take immediate action to rescue the thousands of helpless women and children of Pakistan who have been misguided, deceived and brainwashed with incendiary political rhetoric by ordering Tahir ul Qadri to desist from his inflammatory threats of a bloody revolution.
International Quranic Open University
Department of Human Rights
Main Image:
Thumbnail Image:
Main Image Credit:
A delegation of American Muslims representing the International Quranic Open University