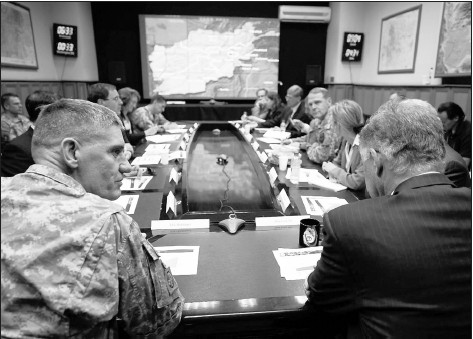 PressTV
Spain has authorized the temporary deployment of US Marine forces to an airbase in the southwestern city of Moron de la Frontera, Seville Province. The Spanish government granted the air base to the US forces on Friday for a period of one year for 500 Marines and eight aircrafts.
The United States Embassy in the capital, Madrid, stated that it needed a force able to respond quickly to crises in northwest Africa. On September 11, 2012, four Americans were killed in the city of Benghazi, Libya.
In conjunction, Africa has experienced a surge in the US military involvement recently. In February of 2012, Army General David Rodriguez, the head of US military's African Command, said in a Senate hearing that the military needed to boost its "intelligence-gathering and spying missions in Africa by nearly 15-fold."
In December 2012, the Pentagon announced that the "Dagger Brigade" consisting of 3,500 combat troops was set up to be deployed to as many as 35 African nations to train local forces. The US Africa Command has been based in Stuttgart, Germany, since it was established in 2007. Efforts to move the headquarters to an African country faced hurdles as numerous nations expressed concern that the Pentagon was seeking to militarize US policy or infringe on their sovereignty.
Spain had also granted the US another temporary deployment from March to November 2011, in which up to 45 US aircraft were stationed at the Moron and Rota airbases in the southwestern parts of the country. Spain's authorizations originate from a 1988 defense cooperation agreement between Spain and the United States.
Main Image:
Thumbnail Image:
Main Image Credit:
US DEFENSE DEPT PHOTO: Army General David Rodriguez (left), former commander of the International Security Assistance Force in Afghanistan, now the head of US military's African Command, briefs ISAF in 2009.