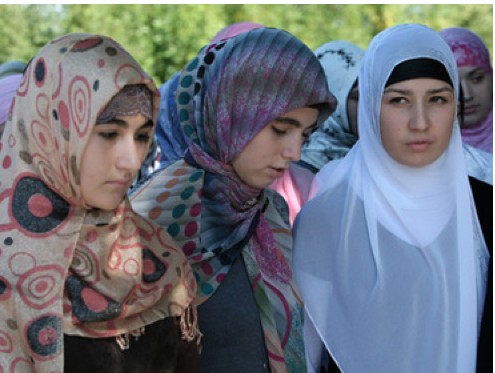 Dr. Ruslan Kurbanov, senior research fellow of Institute for Oriental Studies of Russian Academy of Sciences
Indignant parents of the girls filed a complaint with the prosecutor's office on the decision of school administration. On their opinion such prohibition on wearing hijab in school violates the right of their daughters on access to education and freedom of religion. This incident involved to the orbit of burst out scandal around hijab almost all Russian society, media, federal authorities, including President of Russia Vladimir Putin.

Official positions

As for reaction of Russian officials, Presidential Plenipotentiary Envoy to North Caucasus Alexander Hloponin supported the decision of Kara-Tyube's school administration. He even promised to provide a governmental protection to director of school, if she faces "threats from Muslims".

Russian Minister of Education Dmitry Livanov, on the contrary, stated about potential possibility for Muslim girls to attend schools in hijab. By his opinion, "there is a space for compromises at every school, which can guarantee both – secular principles of education and following to cultural traditions by schoolchildren".

But after Russian President Vladimir Putin announced his opinion on hijab Livanov rapidly changed his position on this matter. Thus Putin supported decision of Kara-Tyube's school administration and recommended to Russian bureaucrats to take their cue from European countries where wearing hijab is punished by high fines.
Bloodshed around hijab

Then the President of Caucasian Republic of Ingushetia within Russia, general of intelligence service Yunus-Bek Evkurov said that Ingushi authorities will not allow attending schools in hijab. He argued his position by the statement that schools in Russia have special uniform and by apprehension that permission of hijab can raise a problem of religious extremism.

"If we yield to this claim, tomorrow another can appear with the claim to allow paranja in schools or to separate boys and girls at lessons", – Evkurov said. It worth to remind that Evkurov took such strict position after Putin's comments on hijab. Before that Evkurov's position on wearing hijab in such completely Muslim region of Russia as Ingushetia was more flexible.

Meanwhile the attempts to ban hijab for schoolgirls in Dagestan – the most Islamized region of Russia – have led to bloody consequences. For example here directors of two schools – Patimat Magomedova in Shamhal village and Sidikullah Ahmedov in Sovetskoe village had been killed by Jihadi groups. They both tried to prohibit for Muslim girls to attend lessons with covered heads.
Main Image:
Thumbnail Image:
Main Image Credit:
Russian Hijabi Students