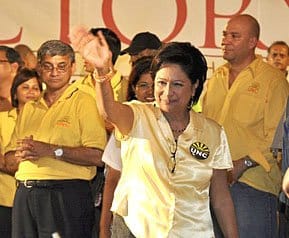 BBC News
Mr Manning admitted defeat live on television, saying he took full responsibility for the result. He called the election last month, as his administration came under pressure over allegations of waste spending and corruption.
Former Attorney General Kamla Persad-Bissessar will now become Trinidad and Tobago's first female prime minister. Rising crime and corruption were seen as two of the main issues for voters.
Mr Manning decided in April to call a snap election, two years before the constitutional deadline.His government was facing severe criticism for multi-million dollar spending projects and allegations of public corruption.
But correspondents say his reason for calling an early poll was not clear as he was expected to win a no-confidence vote. Trinidad and Tobago is one of the wealthiest countries in the Caribbean, thanks to its large reserves of oil and gas.
Mr Manning's National People's Movement (PNM) was fighting the United National Congress coalition (UNC) in the race. The PNM draws support mostly from Trinidadians of African descent, while most followers of the UNC are of Indian descent.
However, the UNC has been trying to position itself as an inclusive coalition reaching across ethnic and socio-economic groups.
Main Image: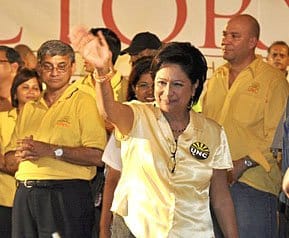 Thumbnail Image: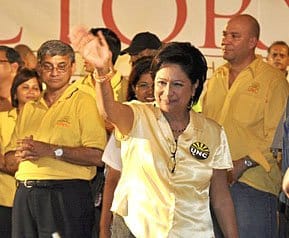 Main Image Credit:
Prime Minister-elect Kamla Persad-Bissessar waves to supporters Monday night at her party headquarters in Port of Spain. AP