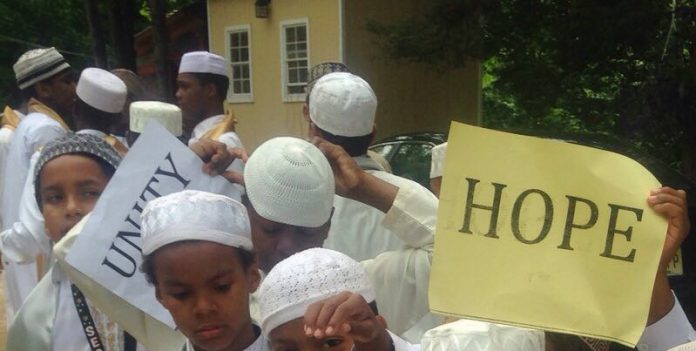 (Hancock, NY- July 11, 2017) Bikers are once again targeting American Muslims living in the rural hamlet of Islamberg by staging a rally in and around the Hancock, New York area under the pretext of patriotic concern for national security. The rally, billed as the "2nd Annual Ride for National Security", is scheduled for Saturday, July 15 and will culminate in a "ride" past Islamberg. Islamberg is headquarters of The Muslims of America, Inc. (TMOA), a religious congregation and home to dozens of American Muslim families. Several groups have expressed their intent to participate in the rally, namely, The Proud Boys; Alt Knights; Red Elephants; Oath Keepers; and 3%ers – all dangerous homegrown terrorists, whom TMOA has coined the "American Taliban", defined as Americans who engage in terroristic and anti-social activities against citizens – just like the brutal Taliban of Afghanistan.
Last year, the 1st Annual Ride for National Security, organized by Ram Lubranicki, leader of the American Bikers United Against Jihad (ABUAJ), and supported by Joseph Glasgow of Everything Patriot, was held Sunday, May 15, 2016. The rally was shamefully unsuccessful, with a grand total of five bikers showing up in comparison to the nearly 400 Islamberg community members and their allies from all over the US who stood in unity against the display of hatred and bigotry.
The right-wing extremist organizers of the July 15 rally are utilizing previously debunked information obtained from known hate groups and Islamophobic sources with shady credentials that peddle fake news. In 2015, the FBI intercepted a terrorist plot masterminded by Robert R. Doggart of Signal Mountain, TN against the residents of Islamberg. He was convicted and recently sentenced to nearly 20 years in federal prison for his role. Doggart claimed he was misled by information made available to him on the Internet and Fox News, courtesy of The Clarion Project.
The Clarion Project and its leader Ryan Mauro, who are on the Southern Poverty Law Center's Hatewatch List, falsely implies that there is an association between TMOA and Ramadan Abdullah, a known criminal recently arrested in the upstate NY area on felony weapons charges. Abdullah is not a member of TMOA. The Proud Boys, who have garnered a reputation for instigating violence at rallies, are also promoting Mauro's erroneous claim that Abdullah was stockpiling weapons for Islamberg residents to use against them on July 15. TMOA and its members strive to raise their children in drug-free and crime-free environments and has never knowingly affiliated or associated with criminals.
While these proponents of mischief attempt to sow the seeds of conflict, TMOA, and its allies will continue to encourage Muslim, Christian and Jewish unity. The Muslims of America, Inc., will not waste time or efforts being preoccupied with public spectacles. These groups staging the July 15 rally represent a lucrative American Islamophobia movement, have no regard for government authority and continue to incite, provoke and perpetuate the Islamophobic propaganda and hysteria that plagues our country.
The Muslims of America, Inc., have been in contact with law enforcement concerning this issue and have made it clear that there is no intention to entertain or participate in any countermeasures to this protest rally. "It is our prayer and hope that God Almighty continues to shield, guide and protect all American citizens from the nefarious plans of those who seek to do harm," said Assistant Public Relations Director Faruq Baqi.
TMOA would like to thank neighbors, associates, interfaith partners, and friends for their offers of support, expressions of concern and unhesitating willingness and preparedness to stand with Islamberg in supporting human rights for all Americans.