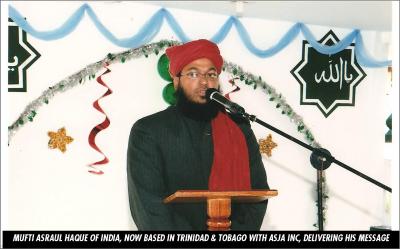 Raymond Azeeze
The Muslim community of Guyana organized its annual program to mark the commencement of the Islamic New Year 1431. The program was hosted by The Muslim Youth League of Guyana, the Guyana United Sadr Islamic Anjuman and the Anna Catherina Islamic Complex for the 13th successive year marking the commencement of the Islamic New Year. The program, which is now a premiere activity on the calendar of events for Muslims in Guyana, was graced with the presence of Mufti Ashraul Haque, the renowned Muslim scholar based in the twin-island Republic of Trinidad & Tobago. Mufti Haque was born in India and educated at the famous Al Ahzar University in Egypt. He is currently attached to the Anjuman Sunnatul Jamaat Association (ASJA) of Trinidad & Tobago as the Principal of the Hajji Ruknudeen Institute of Higher Islamic Education in the twin Island. He was accompanied by Saeed Mohamed, a student of the said Institute in his final year of qualifying as a Maulana, Imam Ahmad Hussain, Chairman of the country's International Qaseeda Committee and Bro. Ejaz Mohamed of ASJA Inc.
Mufti Haque's visit is through the initiative of the President General of ASJA, Al Haj Yacoob Ally and as a result of the cooperation between the Muslims of these two Caricom countries, through these respective organizations.
The captivated crowd listened to dynamic Presentations by Mufti Haque and Saeed Mohamed. Also present at the program was the Director of Education of CIOG, Shaykh Safraz Bacchus, himself a graduate of the Al Ahzar University. MYL's Executive Dr. Wazir Mohamed, who recently completed his PHD in New York, USA, also graced the program with his presence and gave brief remarks. The program included Qaseedas, Messages, Quranic Exhortations, Children Items etc.
The lunar Islamic Calendar began its calculation after the migration of Prophet Muhammad to Medina. The first month of the calendar is Muharram, in which the 10th day (called Ashura) is significant not only to Muslims, but humanity. It is reported that the entire universe was created on this day, the first drop of rain fell on this day, the first human, Prophet Adam was created on this day, Prophet Jesus ascended to the heavens on this day, Prophet Ayube (Jacob) regained his eyesight on this day, Prophet Moses saved the Children of Israel from Pharaoh's army by the opening of the Red Sea on this day and our Prophet Muhammad's grandsons, Imam Hussain and Hassan were martyred.
The 10th day of Muharram (Ashura) therefore is very auspicious to Muslims and is observed with fasting, prayers and special programs at the various mosques.
Main Image: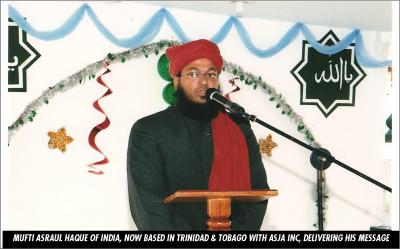 Thumbnail Image: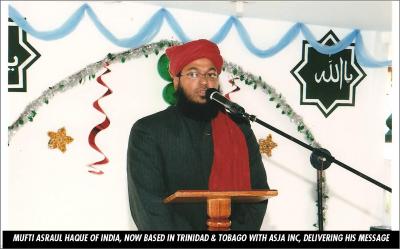 Main Image Credit:
Mufti Ashraul Haque from the Hajji Ruknudeen Institute of Higher Islamic Education of Trinidad & Tobago.