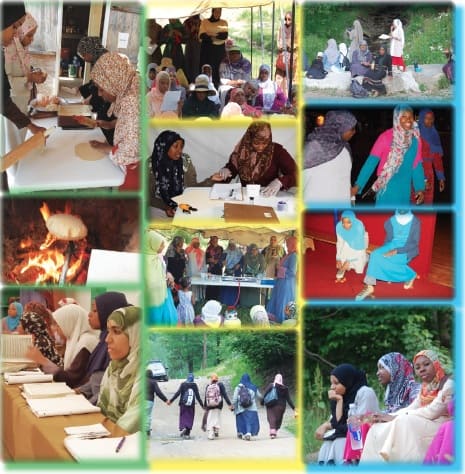 For six weeks, from early June until the third week in July 2011, about 70 young Muslim ladies from across the Americas have gathered in Holy Islamberg, in the Catskill mountains near Hancock, New York, for the 24th Banaatun Noor International Annual Summer Camp under the direct supervision of our Blessed Murshid (spiritual guide and leader) Sheikh Mubarik Ali Shah Gilani. The BNI camp provides a quiet, rustic, secluded setting, located far from the hectic routines of daily living, facilitating the concentration and immersion into the study of Holy Quran and Sunnah of the Holy Last Messenger Muhammad, peace be upon him, that is necessary to bring about the reformation and transformation of human souls.
The purpose and goal of the BNI Summer Camps is to educate and produce Mu'minaat – believing Muslim ladies – who worship and serve Allah, The Almighty One and only true God, in the best way. They exemplify true Islam–the living Sunnah of the Holy Last Messenger Muhammad, peace be upon him, and personify excellent Muslim ladies, daughters, wives and mothers. These goals can easily be accomplished through the proper education and spiritual discipline under the guidance of a perfect Sufi Sheikh, coupled with Love for Almighty Allah, and with hard work and determination. All praise and thanks be to Allah, by whom the young ladies attending this year's BNI camp have been blessed with all of the required components necessary to reach these goals and achieve success!
Participants ranging from the ages of 15 to 25 arrived at the camp with various levels of educational and spiritual attainment, but all were expected and were being prepared to leave the camp able to read Holy Quran in Arabic with proper Tajweed, the rules of recitation, having memorized the last 10 ayat of Holy Quran and the 40 Hadith Jami, ability of basic conversation in the Arabic language, knowledge of Tafsir of Holy Quran, skills in Arabic writing and calligraphy, knowledge of the Sunnah applicable to daily life, basic Shariah, Science of Hadith, Islamic laws of marriage and divorce, Islamic etiquette, Islamic history from the advent of the first revelation through the Four Righteous Khalifas, and skills in Islamic cooking, knitting, crochet, sewing and embroidery. The BNI camp schedule is vigorous, with each day beginning with Tahujjud Salat at 3:30 a.m and ending after Ishaa Salat at 11:00 p.m. However, care was taken to insure that regular exercise, rest, relaxation and outings were woven into the schedule to provide a much-needed physical and mental reprieve from their studies.
Following the commencement and awards ceremony on July 17, the ladies remained in Holy Islamberg for a three-day seminar, demonstrating what they had learned over the previous six weeks. The goal of the seminar was to settle into a schedule of ibadah (worship) and study that will continue even after returning to their respective homes.
Main Image: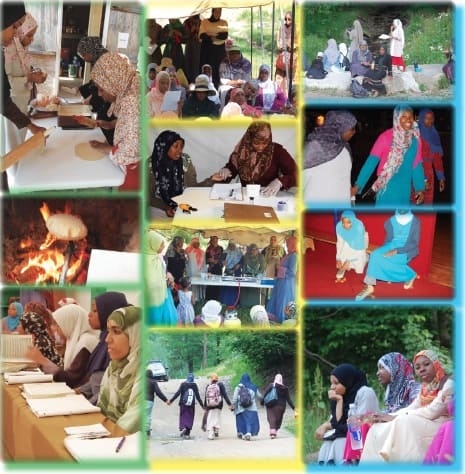 left column top to bottom Skills taught in Islamic Cooking and preparation of foods, Middle column top to bottom The ladies camp schedule is vigorous, day commences with Tahujjud, Right column top to bottom care was taken to insure that regular exercise, rest, relaxation and outings were worked into the schedule