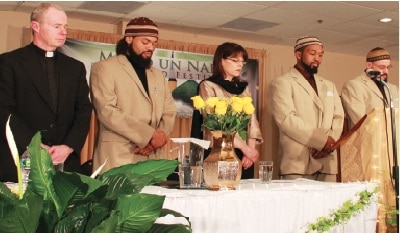 The celebration of the blessed birth of The Holy Last Messenger, peace be upon him, came three months after the celebration of the noble birth of Al Messiah, Jesus son of Mary, peace be upon him, also hosted by the United Muslim Christian Forum (UMCF) in Binghamton, NY.
The UMCF was founded five years ago by His Eminence Sultan Mubarik Ali Shah Gilani, Vice Chancellor of the International Qur'anic Open University (IQOU), with the vision to unite Christians and Muslims under the umbrella of Mankind is the Family of God. This organization is not limited to these two groups, but their commonality and love for The Almighty Creator and Jesus son of Mary, make for a perfect match. Together, the members of UMCF have broken down stereotypes to become a beacon of light, leading the way towards peace, understanding and religious tolerance and reinforcing the teachings of the Noble Holy Messengers Muhammad and Jesus son of Mary (peace be upon them) both of whom are two aspects of the same Reality.
Hundreds of Muslims and Christians traveled from various parts of the U.S. and Canada for the celebration. Master of Ceremonies, Mr. Mu'az Abdul-Haqq, student of IQOU, welcomed all and reminded the audience of the program's purpose, immediately setting the tone for an inspiring afternoon. "The Holy Last Messenger, peace and blessings be upon him, came as … a vanguard for upholding human rights."
Mr. Abdul-Haqq then introduced Mr. Idris Abdul-Hakim, who opened the program by eloquently reciting the opening chapter of Holy Qur'an, equivalent in beauty and entreaty to the 'Lord's Prayer' of the Gospel, after which, the melodious voice of Mrs. Sakina Abdur-Razzaq filled the room with the National Anthem.
Mr. Abdul-Haqq then introduced the Honorable Mayor of Owego, Mr. Edward Arrington, chairman of the Deacon Board of The First Baptist Church of Owego. Mayor Arrington's commitment to world peace and religious understanding was evident in his accessibility during the planning stages of the program.
Delivering the UMCF welcome address was Dr. Diane O'Heron, respected professor at Broome Community College, member of St. Ambrose Roman Catholic Church, and a standing board member of UMCF. Professor O'Heron's true commitment to peace and unity were summed up in these heartfelt words: "It is the hope of the UMCF that we can create understanding by changing individuals; by opening their eyes and hearts to the connections between Islam and Christianity." She observed that one way to be a less passive observer of Islam was, "to build lasting friendships with both Muslims and Christians."
Mr. Abdul-Haqq then welcomed guest speaker Father Tim Taugher of Blessed Sacrament Church in Johnson City, NY. Father Taugher is the diocesan director of the Office of Social Action Ministry and was ordained to the priesthood in 1978. His words conveyed the true meaning of compassion, tolerance, and mercy for our fellow creatures, which he conveyed to the audience through examples from the Holy Qur'an, Holy Bible, and the traditions of the prophets of Almighty God, peace be upon them all. He said, "It was the tradition of Prophet Abraham to hold off eating his breakfast until a hungry person came to eat with him; one day an old man came along and he invited him to eat with him, after taking his seat, the old man then offered some pagan prayer over his food, at which Abraham rose from the table and ordered the man to leave at once. Immediately, God Almighty said to him, 'Abraham, I have been supplying that unbeliever with food everyday for the past eighty years; could not you have tolerated him for just one minute?"
With these inspirational words still reverberating, Mr. Abdul-Haqq introduced distinguished alumni of IQOU, Mr. Muhammad Ali Qadri, who serves as acting Mayor of the Muslim village Ahmadabad in Virginia. Speaking on behalf of the Muslims of the Americas, he delivered a keynote address – a clear statement of policy, of fellowship and interfaith unity. He began with the declaration that "Almighty God is One and whosoever doesn't believe in God does not believe in himself. … and what was the good news Jesus conveyed? From the Gospel of Barnabas,
And when I saw him, my soul filled with consolation saying, "Muhammad, (peace be on him) God be with thee, and may He make me worthy to untie thy shoe latchet, for obtaining this, I shall be one great prophet and holy one of God." Further, Chapter 92 states … Jesus said, "God said, 'Wait Muhammad; for thy sake I will create paradise, the world and a great multitude of creatures, whereof I make thee a present insomuch that whoso shall bless thee shall be blessed." The New Testament states that Jesus further said, 'Nevertheless, I tell you the truth; it is to your advantage that I go away, for if I do not go away the Comforter will not come to you; but if I go, I will send him to you." (John 16:7)
In reference to the Noble Birth [of the Holy Messenger Muhammad, peace be upon him] Mr.Ali said, "a sign of his immense rank and indication of his exalted status: His mother the Noble Amina said, "The moment he came from me, a light emerged that illuminated everything from east to west, and then he, peace be upon him, fell to the floor and knelt.'
Never before was there so much need for Christians and Muslims to hold dialogue. We are not inviting Christians to Islam. Keep your faith, but let us come together on a common platform, which is the belief in the One Almighty Creator and the Ten Commandments. At this time the world is passing through a great crisis, religion is vastly exploited and racism is rampant. Riots, famine, and bloodshed are widespread. We, as Christians and Muslims, should bring these atrocities to an end by forcing our government to stop interfering in other nation's affairs, and bombing innocent men, women, and children.
Furthermore, I want you to stand with me and condemn the burning of the Holy Qur'an by Terry Jones. Our Sheikh categorically declared that Jones would not be able to do so on September 11. Jones has started his shameful plan in order to bring about the clash between Muslims and Christians, to destroy both religions and to establish an evil empire. This man is obviously fulfilling somebody else's agenda which can cause irreparable damage to the peace and solidarity to the USA. We have been chosen by a divine mandate to declare that if any man is allowed to burn the Holy Qur'an the fate of him and his supporters will not be any different from those people who cut the tendons of the she-camel during the time of Prophet Salih (peace be upon him); although only nine people actually cut the tendons, the Almighty destroyed the entire nation. Thus we must pass a resolution to work together. Fact is we, Christians and Muslims are one. It is only vested interests that make us fight in an attempt to dominate the world. First they tried to kill Jesus son of Mary (peace be upon him). Now they try to make us fight by committing atrocities in the name of Muslims."
The audience was then treated to the musical performances of world renowned nasheed group Ansarudeen, who performed one original piece written solely for the program entitled 'My Beloved' in honor of the Holy Last Messenger, peace be upon him, and a very powerful Qasidah (lyrical poetry) in Arabic and English, composed by Imam Zainul Abideen, upon him be peace, the last standing male member of the blessed family of the Holy Last Messenger, peace be upon him, dedicated to their memory after he had just lost his father, the noble Hazrat Imam Husain (upon him peace), his relatives, and his companions all at once -in one of the most divisive, hate-filled, horrendous tragedies ever witnessed.
Next on the program, Binghamton University student and gospel singer, Mr. Cherrick Skinner's soulful and moving performance of the hymn Joyful Joyful brought with it tears of joy.
"Joyful, joyful, we adore Thee, God of glory, Lord of love;
Hearts unfold like flow'rs before Thee,"
And last but not least, the beautiful voices of Banaatus Salaam with their original piece, "God Gave Us Life," captivated the audience:
'God gave us life and we are from Him, let the Light of your Lord shine through from within. Let the Peace of His Love, flow like the wind. God gave us life and we are from Him; in this world, from Adam and Eve we escend – one nation under God!'
In what has become a United Muslim Christian Forum tradition, gifts were awarded by Mrs. Maryam Rahim, Executive Secretary of UMCF, to the panel of speakers, in appreciation of their participation at this historic event.
The program concluded with the joining of hands by all and a pledge of solidarity led by the Honorable Khalifa Hussein Adams, chairman of the United Muslim Christian Forum and Chief Executive of Muslims of America, whose national and international relief efforts have been widely recognized. It was an appropriate climax to an extraordinary afternoon that no one in attendance would soon forget.