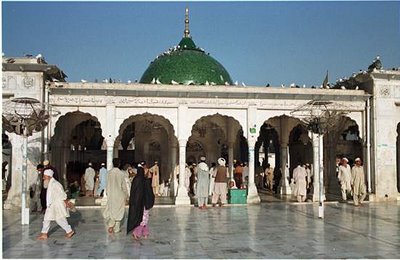 Deck:
This beloved saint of saints went home to meet his Allah in the blessed month of Safar.
The Islamic Post
Born in 400 A.H. in Ghazni (Afghanistan), Hazrat Data Ganj Bakhsh belonged to a Syed family (descendant of the Holy Prophet). He completed his earlier education in Ghazni by memorizing the Holy Quran. Then he studied Arabic, Farsi, Hadith, Fiqh, Philosophy etc. At that time Ghazni was the center of education in Central Asia, and it was the realm of the famous Afghan ruler Sultan Mahmood Ghaznavi.
After completing the worldly education, he searched for the spiritual education. He traveled to many places for this purpose, and finally became a spiritual disciple of Hazrat Abul Fazal Mohammad bin Khatli of the Junaidiya Sufi Order, who lived in Syria.
In Syria, Hazrat Ali Hajveri started his spiritual education under the guidance of Hazrat Abul Fazal; he slept less, ate less, and performed tough contemplations & meditation. Then he traveled to many countries & places like Iran, Iraq, Syria, Turkey, Arabia, Azerbaijan etc. There he met many Sufi saints & dervishes.
During the journey of Syria, he visited the tomb of the great Companion of the Holy Prophet, Hazrat Bilal. There he slept for a while, and found himself in Makka, where he saw the Holy Prophet with an old man, he didn't recognize him & thought who he could be? Then Hazrat Ali Hajveri fell on the feet of the Holy Prophet & kissed them. The Holy Prophet knew what Hazrat Ali Hajveri had in his mind, so he told Ali Hajveri: "This old man is Abu Hanifa, your Imam."
Later his spiritual teacher Hazrat Abul Fazal ordered him to go to Lahore to preach the spiritual teachings of Islam. He said: "Hazrat Shah Hussain Zanjani is already there for this purpose, so then why should I go to there? Hazrat Abul Fazal said: "just go to Lahore." So he left Syria & came to Ghazni. From Ghazni he went to Peshawar & then to Lahore, in 1041 A.D (431 A.H). When he reached to Lahore, he saw that people are taking a coffin towards the graveyard for burial. He asked whom this person was. People replied that it is the dead body of Hazrat Shah Hussain Zanjani. After hearing that, he understood why his teacher Hazrat Abul Fazal sent him to Lahore. After reaching Lahore, he started to preach Islam and built a mosque there. There, he passed away on the 19th Safar and his tomb remains a much visited and beloved site in Lahore Pakistan.

Main Image: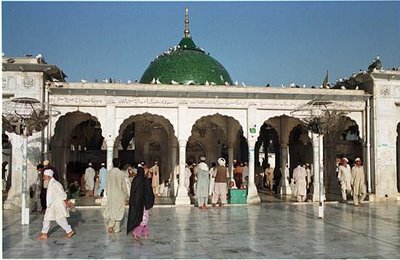 Thumbnail Image: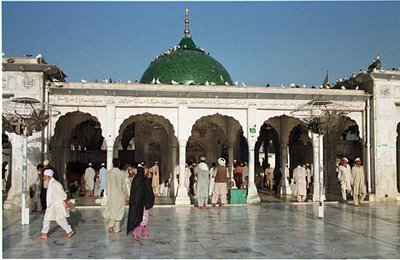 Main Image Credit:
Shrine of Hazrat Data Ganj Bakhsh