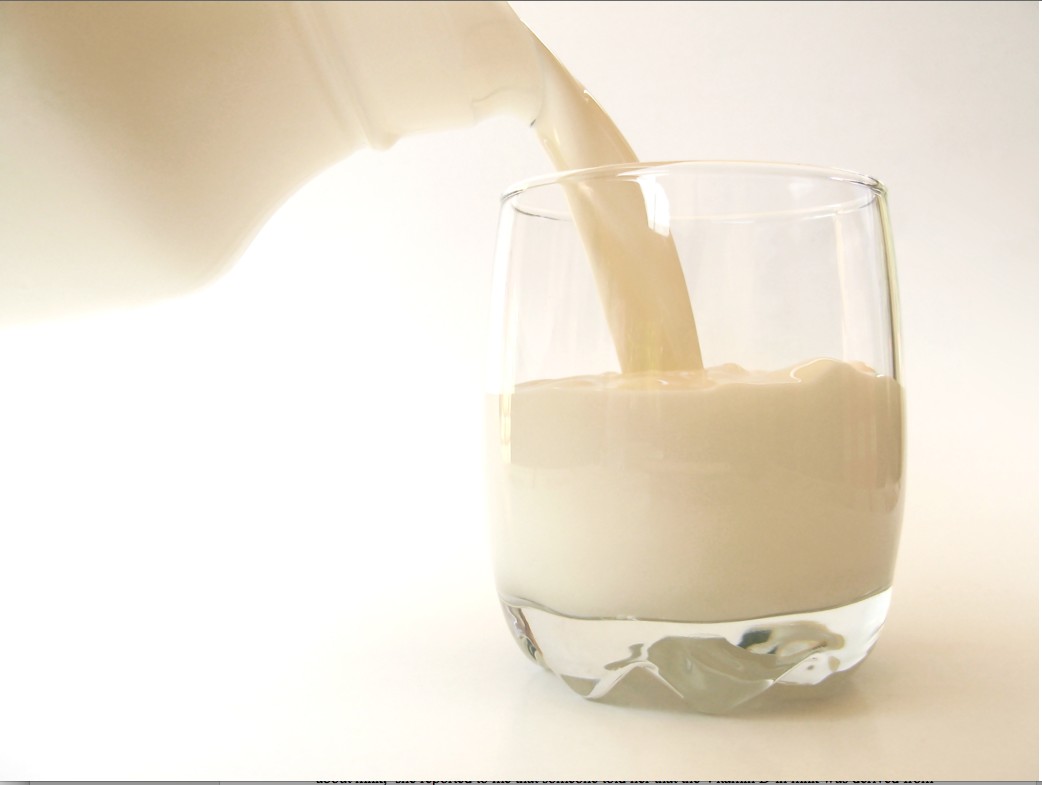 My younger sister is a master gardener and is really into organic foods. We have conversations on many subjects and she believes she is correct most of the time. During one of our discussions about milk, she reported to me that someone told her that the Vitamin D in milk was derived from pig. I thought about it and it didn't make sense to me for that to be the case, I felt it was easier to get it from other sources. Well, after a little research, it turns out that she was right. Vitamin D comes from pig! BUT, it also comes from other sources.
Vitamin D is used by the body for the absorption of calcium, which is essential for the normal development of healthy teeth and bones. It also helps maintain adequate blood levels of calcium and phosphorus as well. This Vitamin also promotes the immune system's natural defense and it may help to prevent or reverse coronary artery disease, preventing heart attacks.
Vitamin D3 is synthesized by the body via the skin after sunlight exposure; hence, its other name – the "sunshine Vitamin". About ten minutes of sunshine 3 times weekly is adequate to produce the body's requirement of Vitamin D. For persons who live in areas with low sunlight or have skin conditions that preclude them from being in the sun, or for those who have conditions that expose them to low Vitamin D, it is necessary that they receive supplementation. This is often accomplished by taking tablets by mouth or by acquiring it in foods that we eat.
The most common source of Vitamin D is milk. In nature, cow's milk already contains Vitamin D, but the amount is usually significantly insufficient for our daily requirements. Additionally, it is only whole milk that retains its innate Vitamin D, for the other milks are produced by having the fat removed and thus stripping the milk of its natural Vitamin D. This then, necessitates that the milk be fortified. It is usually in one of two forms, namely Vitamin D2 or Vitamin D3. D2 is derived from yeast, while D3 is usually a product of animal slaughter. D2 is bitter so the industry has been opting to primarily use D3. D3 for fortification is usually produced from cow, pig or sheep. But the normal source for Vitamin D3 is the skin of the cow, and the cow is slaughtered. Pig skin is hardly used because of the Jewish lobby, says one source.
Another source is the lanolin from sheep's wool, The sheep is not slaughtered, but simply shaven to acquire the wool and the lanolin is synthesized from the wool fat. The diligent research done by my sister and I revealed that there are a few manufacturers that confirmed the use of Lanolin for D3 production and they are as follows:
∙ Kroger (organic) ∙ Food Lion (organic) ∙ Horizon (organic)
∙ Kirkland (organic) ∙ PET (all lines) ∙ Wal-Mart (all lines)
It appears that lanolin may be the major source of D3 in foods, but you can never be certain. Milk was the major product research, but it appears that Cabot cheese also uses lanolin. Other dairy products will be researched at a later date.

As we move forward, we are all attempting to improve our performance in the ways of daily life practices. We were told in the past that if we checked all labels, then we may find that their will be little that we would be able to eat. The caveat that I ask everyone to consider is that on this spiritual journey one thing that is known to muddle the condition of the heart is the consumption of unlawful food. I will keep everyone abreast as more information becomes available. As always only by Allah, Almighty and Glorious is He, can we be healed!
Main Image:
Thumbnail Image:
Main Image Credit:
Healthy Milk