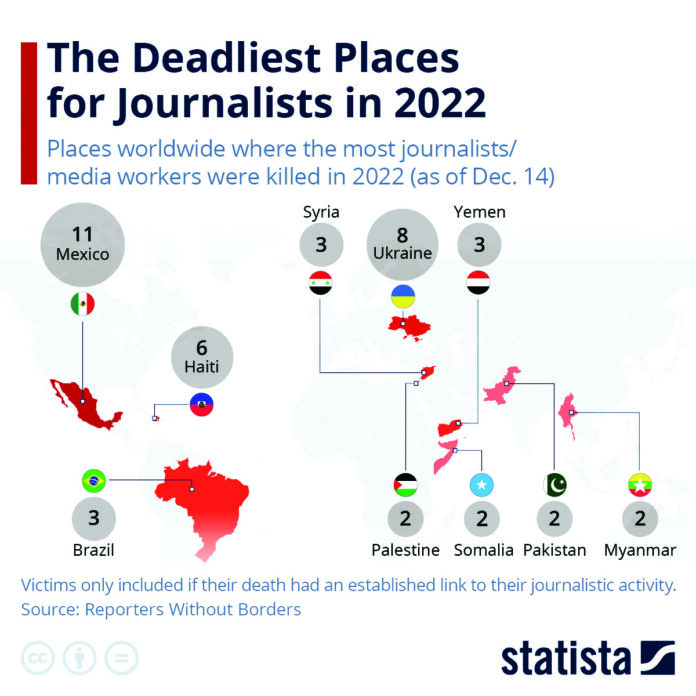 The deadliest year for media workers since 2018 was driven in large part by the war in Ukraine and a rise in killings in Latin America.
TEDDriven in large part by Russia's war in Ukraine and a rise in violence in Latin America, 2022 was the deadliest year for journalists in four years and saw nearly a 50% increase in murders, killings in crossfire, and deaths as the result of dangerous assignments, according to a report released Tuesday.
In its annual report on the killings of members of the press, the Committee to Protect Journalists (CPJ) confirmed that at least 41 journalists and media workers were killed in direct connection to their work, including nearly two dozen who were murdered in retaliation for their work. The group is still investigating the motives for the killings to 26 other journalists, bringing the total number of media workers killed last year to 67.
Fifteen journalists were killed while covering the Ukraine war, including at least eight who were killed in crossfire during fighting between the Russians and Ukrainians. Thirteen of them were killed while reporting or gathering news about the war, which began last February.
Though no deaths of journalists on the ground in Ukraine have been reported since last May, the CPJ emphasized that the war zone is still dangerous for reporters; earlier this month at least three journalists were injured by shelling in Kyiv and Druzhkivka, a city in the eastern region of Donetsk.
"Journalists who risk their lives covering Russia's war in Ukraine are civilians under international humanitarian law and should be protected as such," said Gulnoza Said, CPJ's Europe and Central Asia program coordinator, after the shellings.
Combined with killings in Mexico and Haiti, those in Ukraine made up more than half of the 67 killings recorded by CPJ.
Out of 13 journalists killed in Mexico last year, three were confirmed to have been murdered in retaliation for their reporting, and three were officially being "protected" by state and federal protection mechanisms or were in the process of being enrolled in protection programs when they were killed.
The mechanisms "try to provide [journalists] with some degree of protection from the federal government," Jan-Albert Hootsen, Mexico representative for CPJ, told CBS News. "This is admittedly not ideal because even federal institutions in Mexico are not fully functional. They have their problems, they have their failings."
Julia Conley/commondreams.org