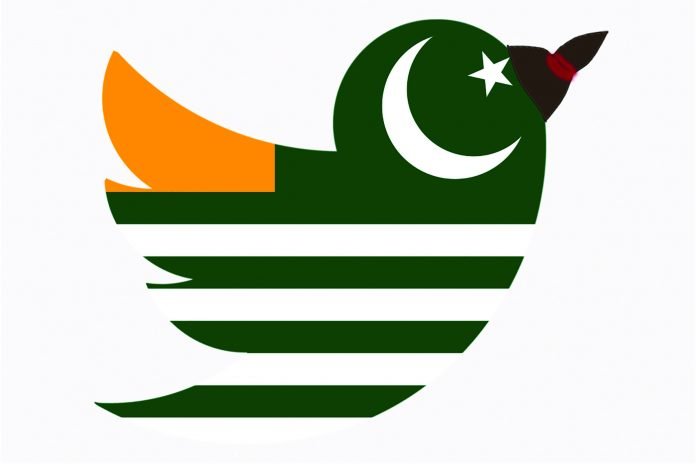 The crackdown on social media users in Kashmir is part of a sharp escalation of the Indian government's censorship efforts.
Ahmed was nervous as he approached the fortified police station, its walls covered with barbed wire and gun-toting cops guarding the entrances. The college student had received a phone call the previous day from Jammu and Kashmir's cyber police, asking him to report to the station with no reason given. Ahmed, whose name has been changed for fear of retaliation, had never been summoned by the police before.
Upon his arrival, police immediately took Ahmed to another station nearby; his cell phone was confiscated at the gate. He was brought to a holding room where he noticed four other young people. After exchanging a few nervous glances and hushed whispers, the five youths realized they knew each other — not in person, but through social media.
They were meeting for the first time at Cargo, a counterinsurgency police complex known for its history as a torture site. Since August, the facility in Srinagar, the capital of Indian-administered Kashmir, has allegedly been used to interrogate and torture young Kashmiri social media users who have been critical of the Indian government's repressive policies implemented in the region since last year.
Jammu Kashmir Coalition of Civil Society, a group of human rights organizations, reported in August that police had made complaints against more than 200 users of social media platforms and virtual private networks, deploying surveillance technology to trace and summon them to police stations under anti-terror and detention laws.
Ahmed and the young people he met at Cargo are among the more than two-dozen men and women, mostly students, who spoke to The Intercept about their experiences in police custody for their social media posts. Some of them had been contacted by the cyber unit and asked to sign a nonbinding agreement at a local police station to refrain from criticizing civil authorities or the armed forces on social media. Others recounted that they were sent to Cargo, where they were thrashed, verbally abused, and threatened with imprisonment or death.
The recent police crackdown on social media is part of a sharp escalation of censorship efforts under India's Hindu nationalist Prime Minister Narendra Modi since August 2019, when the government unilaterally decided to revoke Jammu and Kashmir's semi autonomous status previously guaranteed under the Indian Constitution and divide the state into union territories under its direct control.
The posts under police scrutiny, mostly shared on Twitter and Facebook, were explicitly political: They questioned India's actions against Kashmiris leading up to and following the dissolution of the region's special status, as well as human rights violations perpetrated by Indian security forces and the media's silence on such abuses. Twitter did not respond to a request for comment.
There have been few reports outside Kashmiri and Indian media about the recent crackdown. After publishing a story on the issue for Indian news site Article 14, Kashmiri journalist Auqib Javeed was summoned in late September to the cyber police headquarters. He later claimed that he had been assaulted and detained at Cargo for five hours — a treatment similar to what the social media users described.
Considered the world's most heavily militarized zone, Kashmir was put under an unprecedented military lockdown by the Indian government during 2019-2021. Cellular services and digital communication lines were blocked without any prior notice — resulting in the longest internet shutdown ever recorded in a democracy. The Indian government restored internet access, including to social media sites that were previously banned, in March, but only at slow 2G speed.
The restrictions on internet access have come in tandem with increased surveillance in the region, said Devdutta Mukhopadhyay, associate counsel at the Internet Freedom Foundation, an internet advocacy group based in India. "Some examples we have seen in the past year are WhatsApp group administrators being made to register with district authorities, ban on VPN services, and additional verification requirements for prepaid mobile internet users," she said.
Another college student, Bilal and two other victims told The Intercept that officers had proposed they become informants and snitch on other social media users police were monitoring, in exchange for their release. They were told that they would otherwise be jailed or killed in a staged gunfight.
Bilal was baffled by the offer to become an informant, saying that he never thought his tweets would land him in a situation in which the police would ask him to become a spy.
Kashmir's cyber police force was expanded shortly after the August lockdown, with the intention of curbing cybercrimes. Since then, the unit has grown into a sophisticated surveillance operation, equipped with advanced technology for tracking down Kashmiris, including more recent monitoring of those who contracted Covid-19 during the pandemic. Tahir Ashraf Bhatti, the head of Cargo who is also in charge of the cyber force, was awarded a medal from the Indian government on Independence Day for his department's work.
Bhatti told The Intercept that the cyber unit opens cases mostly for complaints regarding financial fraud and "cyberbullying" — the latter of which has been used as justification to summon social media users for anti-government posts. He denied that people were being summoned or tortured for expressing their political views online.
Bhatti declined to go into detail about what kind of surveillance technology the cyber force uses to collect information on Kashmiris who live both in the region and abroad. Multiple people told The Intercept that despite using VPNs to stay anonymous on social media, the police were still able to find out who they were.
"It takes us half an hour to pinpoint location and details of a user," Bhatti said. He showed The Intercept a WhatsApp conversation, in which a senior officer had asked him about an individual's location and address, and if they had a past record. "My team did it in minutes," he said.
While much of the cyber unit's internal operations remain shrouded in secrecy, its actions have had a noticeable chilling effect on social media activity in Kashmir. Many accounts have vanished, while others have gone silent or no longer post political content.
"At times I write a long post and at the end, I delete it and cry," he said. "My phone haunts me."
Aakash Hassan/ The Intercept
Edited for space by The Islamic Post