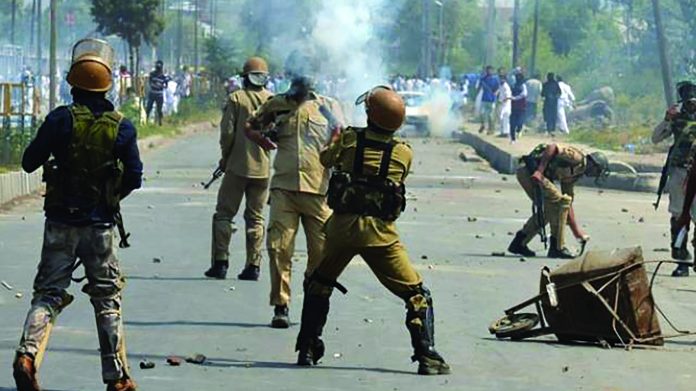 Lawyers and human rights advocates testify at the hearing, demanding an investigation into the current crisis.
Lawyers and human rights advocates have testified at a United States congressional hearing on Kashmir, demanding the release of detainees, giving foreign journalists and legal observers access to the majority-Muslim region, and calling for an end to the communication blackout that has been in place since August 5.
Kashmiri Americans, legal observers, scholars and lawyers testified before the Tom Lantos Human Rights Commission hearing during late November, more than 100 days after India stripped the Himalayan region's autonomy and imposed a crippling lockdown.
"I'm from a family where [in] the last three generations before me, anyone who's a political activist was detained or tortured," said human rights lawyer Sehla Ashai, who was among the seven members who appeared at the hearing in Washington, DC.
In her testimony, Yousra Fazili, whose cousin Mubeen Shah was one of the thousands held without reason leading up to the August 5 move, shared examples of others in the region, alongside her cousin, who have been arrested under the Public Safety Act termed a "lawless law" by Amnesty International and condemned in a United Nations report last year.
"My cousin might be in jail and other people are in jail but the whole place is under arrest," Fazili told Al Jazeera.
'Narrative of Kashmir told by Kashmiris'
Fazili, the human rights lawyer, told Al Jazeera that one of her main hopes from the hearing was to present a narrative of Kashmiris to the world, told by Kashmiris themselves.
"So much of today is being able to say, yes we are people with our own agency, and we can speak for ourselves and we can demand human rights and human dignity for ourselves and it's not … it's not coordinated by anybody else but ourselves," she said.
Adil Mir, a Kashmiri American advocate, told Al Jazeera that he was hopeful about the hearing because it highlighted that Kashmiris are being active and creating a space for themselves.
Sethi warned in his testimony against the rising fear of Hindu nationalism that is stifling voices of religious minorities in India.
Sethi and Bhargava connected the current Kashmir crisis to other crises across India, including Assam, where nearly two million Bengali origin people – both Hindus and Muslims – fear losing their citizenship.
US Representatives David Trone, David Cicilline, Sheila Jackson Lee, Brian K Fitzpatrick, Pramila Jayapal, and Chris Smith were present at the hearing.

By Samira Sadeque/AL JAZEERA NEWS