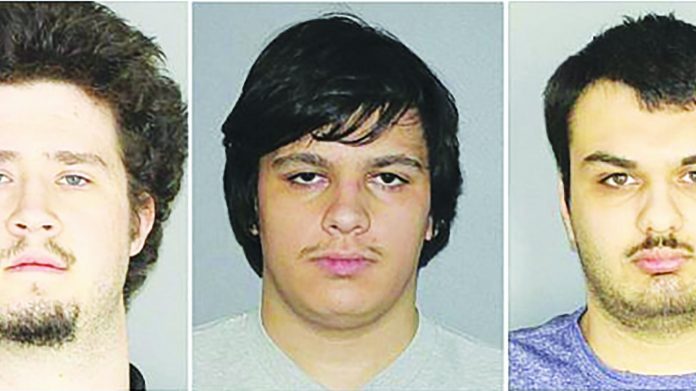 Rochester, NY- Over a dozen residents of the Islamberg community were present at the Monroe County Hall of Justice in August to witness the sentencing of Brian Colaneri, Andrew Crysel and Nicholas Pheilshifter, co-conspirators, in a plot to attack the upstate New York community of American Muslims. Vincent Vetromile, the fourth conspirator was sentenced in September.
The four previously accepted plea deals at hearings in June and July. Colaneri, 20, and Crysel, 18, both pled guilty to second-degree conspiracy and were sentenced to four years in state prison. Pheilshifter, 17, pled guilty to criminal possession of a weapon and was sentenced to seven years in state prison and five years of post-release supervision. Vincent Vetromile, 20, pleaded guilty to attempted first-degree criminal possession of a weapon and received seven years in prison with five years of post-release supervision. Prior to accepting the plea deals, each defendant received a letter from the Department of Justice declining to press federal charges against them for any crimes stemming from the foiled plot.
The four were arrested on January 18, 2019, after a school official received a tip from a student who overheard an alarming statement referencing a picture of 'the next school shooter' made by a student during a lunch period at Greece Odyssey Academy. This led the Greece, NY Police Department to uncover the planned terrorist attack against Islamberg and arrest Colaneri, Crysel, Pheilshifter, and Vetromile. After obtaining search warrants of the suspects homes law enforcement discovered a cache of weapons which included 23 firearms and 3 Improvised Explosive Devices (IED). The IEDs were examined at an FBI forensic lab and found to be operable and capable of causing injury and or death.  
During Colaneri and Crysel's sentencing, Assistant District Attorney Matthew Schwartz referred to the dozens of victim impact letters written by members of the Islamberg community declaring that "the plot impacted the community as a whole, which was obvious from the letters." At sentencing, Judge Sam Valleriani denied the defense attorneys' request to strike some of the impact letters and issued a lengthily and harsh rebuke to Colaneri and Crysel stating, "Your terrorist threat was not only an insidious threat to the way of life of your victims but also a threat to everyone in our democratic society."
The 2019 Greece terror plot against the Islamberg community is the second foiled terror plot against the community in less than five years. Robert R. Doggart from Signal Mountain, TN was arrested in 2015 for soliciting others to also attack the community. Doggart is currently appealing his conviction and sentence while serving a 20-year sentence in federal prison. 
"I found it extremely difficult to be in the same room as the people who wanted to kill my family, friends, and me" said 19-year-old Haleemah Begum who attended Colaneri and Crysel's sentencing. "But I am grateful that they have been brought to justice."