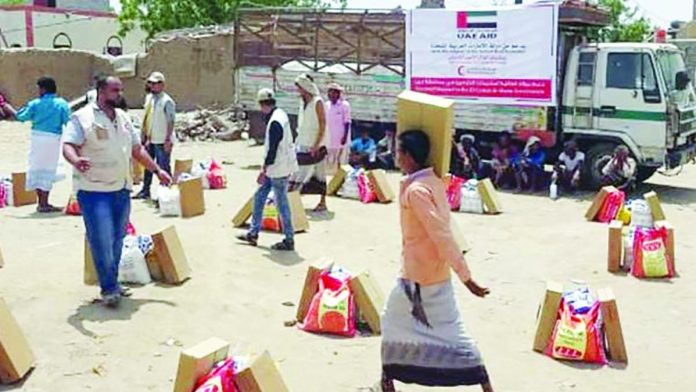 As an investigation into alleged corruption among UN aid workers in Yemen makes headlines, Yemenis say they were not surprised in the slightest and believe aid agency corruption is now commonplace in the country.
In early August, the Associated Press reported that more than a dozen UN employees have been accused of benefiting from the billions of aid dollars meant to be serving Yemenis.
    'If those billions arrived for needy people, there would not be anyone in need in Yemen, but it arrives at the hands of aid workers'
– Hamid al-Baday, teacher in Sanaa
World Health Organisation (WHO) auditors are reportedly investigating allegations that employees hired unqualified staff for high-paying roles, fast-tracked dozens of dodgy contracts and ended up with millions in their bank accounts while donated medicine and fuel went missing.
The chief of WHO's office in Sanaa is alleged to have hired a university student and a former intern for well-paid posts, but their only actual duty was to care for his dog.
The breadth of alleged corruption described in the report is breathtaking for a country where 80 percent of the population requires some form of humanitarian assistance.
But Yemenis told Middle East Eye that they believe the allegations are only a snapshot of widespread corruption among those who are meant to be helping their country, aided by combatants on all sides.
Hamid al-Baday, a Sanaa resident, said he believes endemic corruption in Yemen's aid community has increased steadily since 2015 when the number of international NGOs operating in the country started to rise.
Baday is a teacher, but like other public servants, has not received a regular salary since August 2016 and relies on food aid. He is part of a group of Yemenis who have launched a campaign, calling for greater transparency from aid agencies.
"Most Yemenis are in dire need of food and only officials and aid workers enjoy their lives as they receive salaries in US dollars in addition to the corruption inside the organizations," he told MEE.
"If those billions arrived for needy people, there would not be anyone in need in Yemen but it arrives at the hands of aid workers."
'The Houthis know everything'
Last October, according to the AP report, UN investigators were stopped by Houthis trying to leave Sanaa airport with laptops and external drives thought to contain a proof of corruption in the World Health Organisation's Yemen office.
Armed members of the group, tipped off by a WHO employee who was concerned her embezzlement of aid money would be discovered, reportedly confiscated the computers before the investigators could board their plane.
MEE contacted more than one aid worker in Sanaa who was skeptical that the UN employees would have kept sensitive information on computers or hard drives.
While occasional disputes break out between aid organizations and the Houthis, most of the time, residents say they seem to be working in close concert in northern Yemen.
'Corruption happens everywhere, not only in the UN agencies. But the Houthis don't fight it'
– UN aid worker in Yemen
In fact, aid workers tell MEE that the Houthis control the work of UN aid agencies and international NGOs so closely that no project can be implemented without the Houthi government's approval.
Their work is overseen by the Houthi-run National Authority for the Management and Coordination of Humanitarian Affairs and Disaster Recovery (NAMCHA), based in Sanaa.
A UN aid worker told MEE on condition of anonymity for security concerns that while UN agencies have received billions of dollars in donations since 2015, the Houthis have made it difficult to get that money to needy people.
"The Houthi NAMCHA observes all projects and we cannot start any project until NAMCHA agrees on it and many times NAMCHA imposes projects and INGOs agree on it," he said.
NAMCHA, he added, has all the details about projects, staff, budgets, movements and everything related to the work of UN and INGO agencies.
"We work under the control of the Houthi government and definitely the Houthis know everything. Corruption happens everywhere, not only in the UN agencies. But the Houthis don't fight it," the source added. "If they don't fight it, that means they are involved in it."
In June, a dispute between the UN World Food Programme (WFP) and the Houthis broke out over the agency's concern that food was being diverted away from Yemenis who needed it for profit.
WFP partially suspended its food assistance program in Sanaa, impacting around 850,000 people. On Sunday, the two sides reportedly reached a deal allowing the suspension to be lifted.
The aid worker said NAMCHA had not announced any investigations into WFP's accusations.
"UN and international NGOs are the main income resource for the Houthis as they pay millions of dollars in taxes and fees for NAMCHA so they are not stupid to stop a major resource of incomes," said the aid worker.
Where is the money?
The revelations of the WHO's investigation come three months after Yemeni activists, including Baday, launched a campaign online, called "Where is the money", calling for organizations to provide financial reports about how they spend billions of dollars in donations.
The UN has responded with an online campaign of its own called "Check Our Results" showing programs that have been implemented in Yemen but have not provided financial reports.
The humanitarian crisis in Yemen is one of the worst in the world. Out of 30.5 million people, 24 million require some form of humanitarian or protection assistance, according to OCHA.
UN ocha figures
The severity of their needs is deepening. Of the 24 million who require aid of some kind, 14.3 million Yemenis are now in acute need, a 27 percent increase over the past year. Two-thirds of all districts in the country are already on the verge of famine.
"The corruption has many faces and one face is that traders sell aid food of the UN and INGOs in the market while needy people do not receive it," said Baday.
He said he believes the UN and international NGOs are not transparent because they don't make their financial reports public and demanded that they do so.
"If there is no corruption in the UN and INGOs, they would have published their financial reports as reactions to the popular demands on social media," he said.
The government does its best
A source in the Ministry of Planning and International Cooperation declined to comment on the allegations from aid workers that the Houthis are aware of corruption among international NGOs and UN agencies and don't stop it because they benefit.
'Any closure will lead to bad effects on the lives of Yemenis as they are in dire need of the humanitarian assistance'
    – The official in Houthi-run Ministry of Planning and International Cooperation
Instead, he said that the Houthi government is doing its best in fighting the corruption of UN and international NGOs, but it does not plan to stop the humanitarian work.
"UN and international NGOs have been playing the main role in helping needy people around the country amid this crisis and we do not deny this issue," he told MEE on condition of anonymity because he is not authorized to speak to media."
"There is corruption in many organizations and the government is aware of some of this corruption but we cannot stop it nowadays as this step may lead to the closure of the organisation."
middleeasteye.com