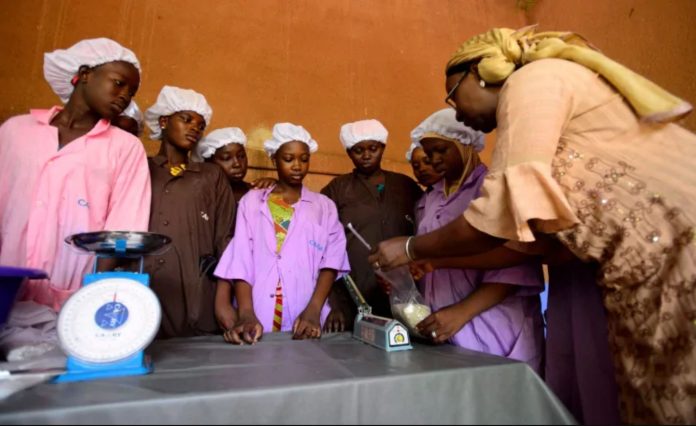 Canada is experimenting with a new method for spending millions of dollars in foreign aid: handing cash directly to people in poverty-stricken or war-torn countries, two senior officials with Global Affairs Canada said.
Global Affairs, the government department responsible for Canada's $5.6 billion annual aid budget, couldn't provide a breakdown of how much money Canada is spending on direct cash transfers.
But interviews with experts, including charities that receive money from Global Affairs for unconditional cash transfer programs, as well as a review of funding commitments to the UN and aid groups show the government has been spending tens of millions of dollars annually on these programs.
"Direct cash transfers have become a key element of humanitarian response and development in the last two to three years," said one of two senior aid officials with Global Affairs who spoke with CBC News by phone on condition they not be quoted by name.
"It is much more efficient to deliver assistance this way. There is no middleman to decide what the needs are. In humanitarian projects, it is being considered the default approach now."
Efficiency questions
The officials said the money is being spent in around three dozen countries, although they could not provide a full breakdown, as direct cash transfers are usually intertwined with other aid programs.
Refugees in Jordan and Ethiopia are some of the people receiving cash aid from Canadians, officials said.
Supporters of giving cash directly to poor people overseas said the transfers help reduce overhead expenses by cutting out high-priced foreign aid consultants, shipping costs and some of the bureaucracy.
Supporters of this type of aid said that recipients, especially women, know what they need more than outside experts. And giving people — particularly refugees — cash to buy their own food, clothing and other essentials helps stimulate local economies in host countries. It also has the potential to reduce local animus toward the new arrivals.   
'Kickstart'
Critics said there isn't enough data on this strategy to properly gauge its long-term effectiveness in reducing poverty and helping poor countries to develop.
"This type of a thing is good as a kickstart, almost like a jump, but not as a ladder to fundamentally lift people out of poverty," said Aniket Bhushan, a Carleton University professor who leads the Canadian International Development Platform, a research group focused on aid policy.
"The real question is sustainability: What happens after the fact?"
As for reduced bureaucracy and overhead, he said, governments and large aid agencies still need to send their experts to set up, administer and evaluate the programs.
Cash transfers don't "offer enough of a short-circuit to drive up efficiency," said Bhushan.
Others question whether more Canadian tax dollars should be given away overseas. According to an Angus-Reid poll released in March, 72 per cent of Canadians believe the country is spending either too much or the right amount on foreign aid. Only 28 per cent support an increase.
Still, aid groups said the new tactic has been well received.
"I haven't come across any political blowback over cash disbursements," said Gregory Queyranne, manager of Oxfam Canada's humanitarian unit.
"If you are dispersing cash, you save on the overhead … the reality is if you want impact, you need to include cash in your approaches."
Refugee investments
Nyatlak Nyiet, 30, a South Sudanese refugee living in a camp in western Ethiopia, is one of the people receiving direct cash transfers under a program run by Oxfam and partially financed by the Canadian government.  
Nyiet ran a tea shop in South Sudan before she was forced to flee last year amid civil conflict.
When she arrived in the camp, Nyiet, a widow, gave birth to her sixth child, who was severely malnourished.
"It was not possible for me to breastfeed. I had only [a] small [amount of] milk, so the baby kept crying," she told Oxfam researchers in June, in an interview shared with CBC.
Nyiet's only source of income for food in the camp was collecting firewood to sell at a market.
"We used to go in groups, but we still did not feel safe," Nyiet said. "We fear getting bitten by a snake or raped."
She was approved for the unconditional cash transfer program, which normally amounts to roughly $30 per month, Oxfam Canada's spokesperson said.
Along with using the cash to buy food, cooking oil and clothes, Nyiet invested some of it in four chickens (including a rooster), corn and okra seeds.
"Sometimes, we eat the eggs that the hens lay, but I am planning to let the eggs hatch so that I could sell roosters for emergencies," she said.
One size doesn't fit all
Government officials acknowledge there are plenty of cases where direct cash transfers don't work. After a major earthquake, for example, there often isn't food or medicine available for purchase amid the rubble, even if victims have money.
"Giving people money to procure health services in the absence of health services doesn't help too much," a Global Affairs official said.
The same is true for conflict zones. In northern Mali, where Canadian troops are working on a UN peacekeeping mission, "markets often don't exist," the official said, so cash transfers wouldn't be effective. There, the government is delivering traditional aid.
To combat corruption and double-dipping, the UN's World Food Program, in an initiative partially funded by Canada, uses iris scans and digital cards to transfer cash to some Syrian refugees living in Jordan.
One of the officials who spoke to CBC said the "digital revolution happening across the developing world" has made cash transfers a more efficient tactic for giving out aid in the last three years, although the strategy "hasn't reached the level of maturity yet."
That is in part why Carleton's Bhushan remains skeptical. For the few cases where long-term data exists, the impact of the transfers on poverty reduction is "sanguine," he said, citing a study from Uganda that compared two groups over nine years.
Members of one cohort initially received $400 in unconditional cash transfers, and the others didn't.
At first, savings and consumption rose markedly for the beneficiaries. But within a decade, the two groups had mostly leveled out in terms of employment income and overall economic well-being.
Back at the refugee camp, Nyiet and other women told researchers that they're thankful for the cold, hard cash, regardless of the broader economic theory behind the program.
"Now, we cook and eat three times a day," Nyiet said.
Canadian Broadcasting Corporation