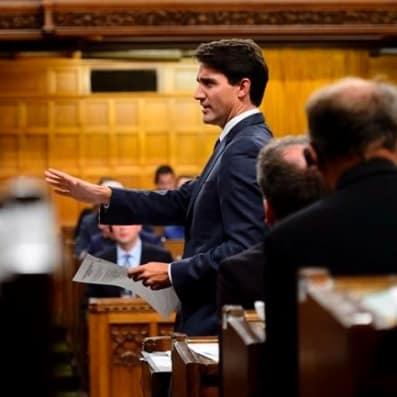 Referring another country to The Hague is a first for Canada
Canada will join five South American nations in signing a formal request for the International Criminal Court to investigate the Venezuelan government of Nicolas Maduro.
It marks the first time Canada has tried to take another country before the ICC in its 20 years as a member. Based in the Netherlands, the court prosecutes war crimes, crimes against humanity and genocide.
Canada joins Argentina, Chile, Colombia, Paraguay and Peru in signing the referral. Each of those countries has received migrants fleeing the humanitarian crisis in Venezuela, with Colombia and Peru receiving the lion's share.
Government sources told CBC that Canada's decision to refer Venezuela is also meant as a show of support for the ICC, an institution this country believes in that is under attack.
Two strikes for Venezuela
In the Americas, the only countries that have declined to join the court are the U.S., Cuba and Nicaragua.
Venezuela is a signatory, and that makes it subject to the court's jurisdiction.
This past summer, the Organization of American States brought forward a complaint against the Maduro government based on a report prepared by three respected international jurists, including Canada's former justice minister, Irwin Cotler.
The complaint details cases of alleged torture as well as politically motivated killings and disappearances for which it blames Venezuela's socialist government. It documents 8,292 extrajudicial executions, mostly of poor Venezuelans caught in police sweeps, as well as 131 killings of regime opponents and critics. It also accuses Venezuela of holding 1,300 political prisoners, and of having arbitrarily detained 12,000 citizens since 2013.
The ICC referral from the six American nations, including Canada, is expected to focus on the same allegations.
U.S. unlikely to object
Although the Trump administration is hostile to the ICC, it has said it will only impose sanctions if the court pursues cases against the U.S. or its allies. That clearly does not include Venezuela.
On Tuesday, Sept. 25 Trump used his speech to the UN General Assembly to excoriate the Maduro regime and announce new sanctions against its leaders.
"More than two million people have fled the anguish inflicted by the socialist Maduro regime and its Cuban sponsors," he said.
"Not long ago, Venezuela was one of the richest countries on Earth. Today, socialism has bankrupted the oil-rich nation and driven its people into abject poverty."
Venezuelan Foreign Minister Jorge Arreaza, also in New York for the General Assembly, hit back at Trump, accusing him of presiding over "a dictatorship."
"They are withdrawing from international organizations," he said. "They are withdrawing from multilateral agreements, climate change, Human Rights Council, migration compact, and many others. Because they don't believe in the multilateral system. They believe in unilateralism. They believe in domination, as if they owned the world."
Venezuela has yet to react officially to Canada's decision to refer it to the ICC.
Evan Dyer/Canadian Broadcasting Corporation
Edited for space by the Islamic Post
https://www.cbc.ca/news/politics/canada-joins-effort-sanction-venezuela-1.4838359
EDITED FOR SPACE BY IP