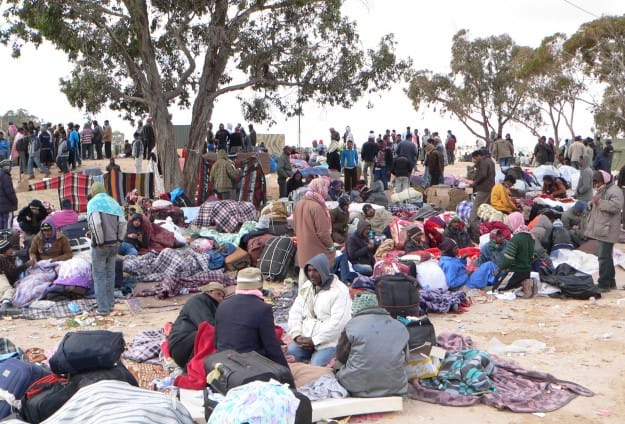 ALGIERS – A report by the Associated Press alleging that Algerian authorities have "abandoned" more than 13,000 people in the Sahara desert has brought fresh scrutiny on the North African country's treatment of migrant travellers.
The American news agency report, which was published on June 25, collected over a dozen testimonies in Niger and also cited a survey conducted by the United Nations' International Organisation for Migration (IOM), which had [allegedly] interviewed thousands of migrants from sub-Saharan Africa who had left Algeria.
It said that those abandoned had included pregnant women and children and that some of them had been threatened at gunpoint to walk through the desert without food or water.
The report also came just a few weeks after Reuters exposed in late May incidents of [alleged] slavery and torture committed by people smugglers working on migration routes in southern Algeria.
Concerns about mass deportations, "ethnic profiling" and suspicions of abuse have been raised by NGOs and, more recently, by the UN, which has denounced Algeria's hardened stance on migration policies over the past few months.
Algerian authorities and local media, however, have hit back at criticism of its treatment of migrant travellers by accusing its critics of stoking conspiracy theories: "It is not migrants we are afraid of, but the people who manipulate them," the Ministry of the Interior claimed back in April.
In an article deriding "Anglo-Saxon media accusations", the Algerian news site Algerie Patriotique said  that criticism of Algeria was part of a "humanitarian conspiracy".
Anger in Algiers
As of June 26,, Algerian authorities had yet to comment on the latest allegations. Earlier in June, the president of the Algerian Red Crescent pushed back against NGO and UN critiques of the deportations.
"It would make more sense to point the finger not at the Algerian government, which has the upper hand in the present case, but at the people who caused all the tragedies being unwillingly suffered by the African migrants," said Saida Benhabiles.
On 27 May, the Representative of Algeria to the UN was instructed by the Ministry of Foreign Affairs "to inform the office of the High Commissioner for Human Rights of the Algerian authorities' strong condemnation of its spokesperson's unacceptable comments, and to ask for explanations as to why such unfounded accusations against Algeria were being made".
In Algiers, Prime Minister Ahmed Ouyahia further stated: "Since Algeria has not agreed to become a detention centre for African migrants for Europe's benefit, we are under fire from outside organisations, which have gone as far as to accuse Algeria of racism."
The European Union was earlier this month reported to be considering a plan to set up migrant screening centres in North African countries, although Dimitris Avramopoulos, the European commissioner for migration, subsequently said that no countries in the region had agreed to the plan.
28,000 expulsions
Officially, Algiers has acknowledged having deported nearly 10,000 undocumented migrants to their native countries since 2016.
Sayid Salhi of the Algerian League for Human Rights (LADDH) [a U.S. funded group] spoke to Middle East Eye about what he called "an increase in expulsions in recent months". He estimates that some "28,000 migrants on the Niger border have already been deported".
Al Houssan Adouwal, who works for the IOM in Assamaka, a town in Niger on the Algerian border, concurred.
"I have never seen deportations like the ones I am currently witnessing. They are arriving by the thousands," he said.
Algerian authorities insist that the expulsions are being carried out "in cooperation with the governments of the countries in question", but a petition signed by several Algerian NGOs in late May challenged the state's official position.
"No readmission agreements or requests for the possible return of nationals have been communicated by the governments of these countries," the petition read. "More than 1,500 migrants have been deported in recent weeks in operations marked by abuse and in direct violation of international human rights law.
'It would make more sense to point the finger at the people responsible for all the tragedies suffered by the African migrants'
– The Algerian Red Crescent
"Only Niger has been reached out to since 2014 regarding the return of its nationals, the majority of whom are women and children, in the context of an obscure agreement with the Algerian government."
In October, Amnesty International's Algerian office claimed that arrests "were based on ethnic profiling, since the police and constables were not checking passports or other official documents to establish whether the migrants were residing legally in Algeria or not.
"Among the migrants arrested and deported, some were undocumented, whereas others had valid visas."
– The article is based on an a translation of a story that was originally published by Middle East Eye's French website.