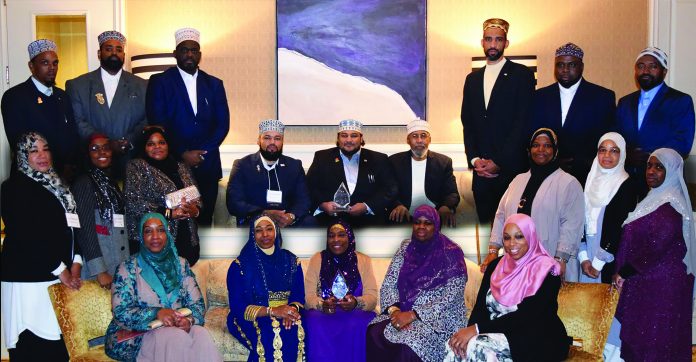 (Washington DC) The American Muslim community of Islamberg received the Community Champion Award at the Muslim Advocates annual dinner held on Sunday, November 12, in Washington, DC. The award honored Islamberg for being "voices of change and encouragement" in the face of Islamophobic attacks launched against the community for well over a decade.
Islamberg was formed in 1984, one of twenty-two locations of The Muslims of America, Inc. (TMOA) founded by Imam El Sheikh Syed Mubarik Ali Shah Gillani, who is credited with guiding four generations of primarily African American Muslims out of decadent inner cities and away from places where immorality was openly displayed. El Sheikh directed these Muslims to resettle into self-sufficient, wholesome lifestyles on rural properties to raise their families and contribute to society as upstanding citizens.
During the award ceremony, Naheed Qureshi, Deputy Director at Muslim Advocates, described the Islamberg community and reason for the honor: "Their story is one of strength and resilience… The people of Islamberg didn't just fight for themselves, they fought for every one of us to live a life free from hate and bigotry".
It is well documented that the TMOA organization has been targeted by Islamophobes for years through a well-funded network that creates false reports and fake news stories, using discredited experts, biased websites, and fake social media accounts in an attempt to link the group to criminal activity, although all claims have been disproven by law enforcement. In 2015, the FBI arrested a right wing extremist, Robert Doggart, who frequented such unscrupulous websites leading to a plot to burn down the Islamberg mosque and slaughter residents, even children, whom he termed "collateral damage". Alarmed and appalled, the community of Islamberg, nonetheless, held strong, using determined self-advocacy to highlight the dangers and unfairness of the double standard being applied when prosecuting such heinous criminals ( and there are others) who plot against Americans. Fortunately, in this case, The Department of Justice successfully convicted Doggart, who was subsequently sentenced to twenty years in prison.
The Muslims of America, Inc., was one of the first organizations to formally draw attention to the growing trend of Islamophobia and the need to unify, educate and self-advocate against hate. Their first Islamophobia Conference, held in November 2015, drew hundreds who left ready to work in unity towards countering the false rhetoric and ignorance of anti-Muslim bigotry by unification, knowledge sharing and self-advocacy.
A recent Pew Research report has confirmed that anti-Muslim sentiment and attacks have risen to a level well beyond post-9/11, including a rise in discrimination and bullying of Muslim children in schools. The group indicates the work is not slowing, but growing, due to the current political climate.
Chief Executive Officer of The Muslims of America, Inc.,  Mr. Hussein Adams, accepted the award on behalf of the Islamberg community and organization, thanking  interfaith partners, neighbors and friends for their support and assistance. In an interview afterward the ceremony, Mr Adams reiterated, "Our fellow Americans have stood firm in the founding principles of our country and have thus stood by Islamberg to send a message of peace and hope to those who attempt to demonize our faith. We are committed to continuing and spreading the benefits of self-advocacy and the need to seek justice, peace and religious freedom for all Americans."