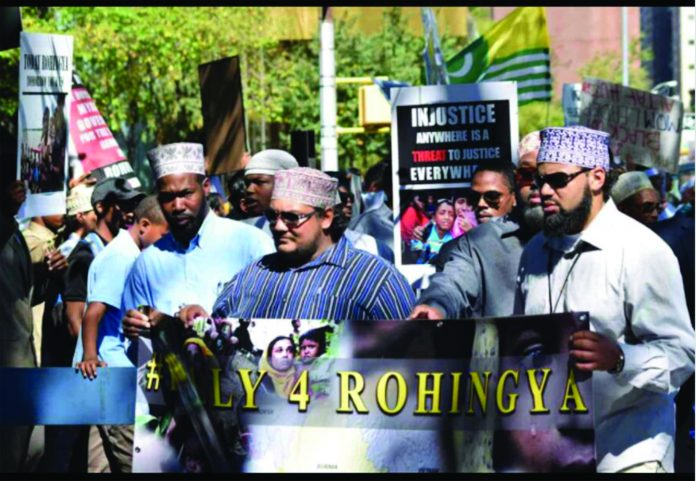 (New York, NY) Hundreds of American Muslims gathered to rally and march near the United Nations headquarters in New York City on September 23 to bring attention to the genocide of Rohingya Muslims at the hand of the Myanmar (Burma) government. Sponsored by The Muslims of America, Inc., rally-goers traveled from as far away as Toronto, Georgia, Tennessee and South Carolina to publicize the suffering of the Rohingya. "We came to show that wherever Muslims are oppressed around the world, we will stand up to amplify the voices of those who have been silenced", expressed rally organizer Muhammad Matthew Gardner.
Radical Buddhist monks, in cooperation with Myanmar security forces, have mercilessly slaughtered countless Rohingya Muslims in Myanmar. According to some sources, well over 500,000 Rohingya have fled to Bangladesh, fleeing mass murder, rape, and the burning of entire villages. Countless Rohingya go into hiding, drown or die of starvation attempting to flee. The government of Myanmar has restricted journalists and humanitarian watch groups from obtaining access to the area.
The Prime Minister of Myanmar, Aung San Suu Kyi, categorically denies anything close to genocide is taking place in her country. In her address on September 19, Suu Kyi claims, "the security forces have been instructed to adhere strictly to the code of conduct in carrying out security operations, to exercise all due restraint, and to take full measures to avoid collateral damage and the harming of innocent civilians." In response to a half million people fleeing in fear, Suu Kyi says, "we want to find out why this exodus is happening." The few reporters and thousands of eyewitness accounts from fleeing Rohingya refute her statements.
Rally organizers expressed the famous Islamic tradition to the swelling crowd, "When one part of the body hurts, the whole body hurts," thereby reiterating the need to show solidarity and support for the Rohingya Muslims who are facing genocide in their own homeland.
Native Rohingya who attended the rally recounted the horrors of their escape, even while some of their family and friends did not make it out of Myanmar (Burma) alive. So heartfelt was the spirit of unity expressed by members of The Muslims of America, that one member of the Burmese community shed tears when hearing the crowd cry, "Your Blood, Our Tears, Allah's Help is Always Near!" When interviewed, the Rohingya rally attendees expressed that they wish for the world to know that Myanmar has a military regime that has its hold on everything, including the push to expel Rohingya Muslims, whom they say are foreigners – when in actuality, the Rohingya have lived in Rakhine state for hundreds of years.
The Muslims of America have previously hosted rallies for Kashmir in the very same location and expressed a commitment to continue shedding light on oppressed Muslims everywhere. Assistant Public Relations Director for The Muslims of America, Faruq Baqi affirmed, "Unity is essential for Muslims all over the world. As American Muslims, we encourage heads of Muslim states to exert their influence and resources to confront the government of Myanmar to stop the genocide being meted out against innocent Rohingya."