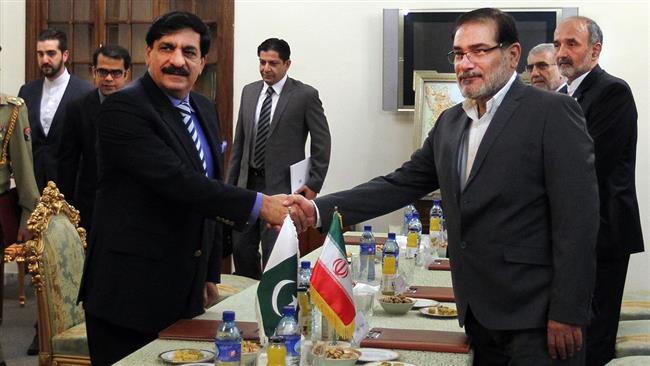 Tehran — Protecting shared borders and preventing terrorists groups' presence and activities in the border region of Iran and Pakistan is an inevitable necessity, Iran's Secretary of Supreme National Security Council (SNSC) Ali Shamkhani affirmed on May 25.
Shamkhani's remarks were asserted in a meeting with Pakistan's National Security Adviser Naseer Khan Janjua, in reference to the recent terrorist attack in Mirjaveh in southeastern Iran from Pakistan's soil.
Nine Iranian border guards were killed by the terrorists near Pakistan's border in the province of Sistan-Balouchestan on April 26 while patrolling at the zero border point.
Urging a boost in ties and consultations between political and security authorities of the two countries, he said that no third party should be allowed to intrude and influence the friendly relations.
In the meeting which was held after Iran's SNSC Secretary at the 8th international high-level meeting on security issues in Russia on May 23-25, both sides stressed the necessity of bilateral agreements' implementation, assessing the measures taken by the two countries' security institutions.
Janjua, for his part, congratulated Hassan Rouhani's re-election in the 12th presidential race and appreciated the Iranian Foreign Minister Mohammad Javad Zarif's recent visit to Pakistan as an effective step for further anti-violence coordination between the two countries in the border region.