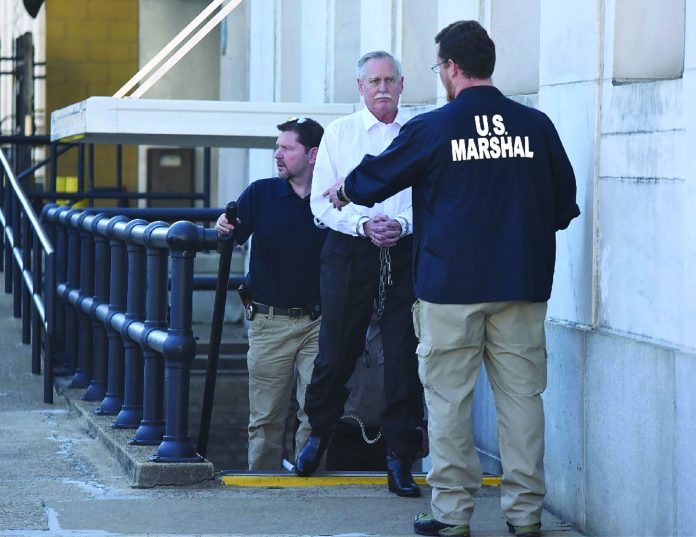 Hancock, NY — The date of February 16, 2017, will forever be commemorated as a day of victory by the American Muslim village of Islamberg in upstate New York.
It is the day that Robert Doggart, a right-wing extremist, self-described Christian 'preacher', and failed congressional candidate from Signal Mountain, Tennessee, was declared guilty, by a jury of his peers, of four crimes against the men, women and children who reside in the peaceful community. Doggart's horrific plan to burn
down their place of worship and school, and murder Islamberg residents never materialized, as Doggart was arrested in April of 2015 by the FBI, which had obtained sufficient proof through wiretaps that he was the culpable mastermind of a hate-motivated and gruesome terrorist plot against innocent American citizens.
Chief Executive of The Muslims of America, and Islamberg resident, the Honorable Hussein Adams, on behalf of the entire community, expressed exhilaration and gratitude for the guilty verdict and closure of the nearly two-year ordeal: "We first give thanks to the Almighty Creator for He is indeed always with us and He is the ultimate Protector of mankind. We are exceedingly grateful and blessed to have been guided by our Imam El Sheikh Syed Mubarik Ali Shah Gillani, a humanitarian and founder of Islamberg, who encouraged families of African American Muslims to leave the decadence of the inner cities for a peaceful and faithful life in the beautiful Muslim village of Islamberg. We would like to thank Judge Curtis Lynn Collier, the Department of Justice Prosecutor Saeed Mody, Assistant U.S. Attorney Perry Piper and FBI Special Agent James Smith for their professionalism and seeing this case through by using all the tools available to them to provide Mr. Doggart with a fair trial."
"The importance of this win cannot be overemphasized, for we have had our lives changed forever, our peace and security shattered, our place of religious worship threatened, and our children personally affected by Mr. Doggart and his accomplices," Mr. Adams stated during a recent press conference. "With today's guilty verdict, our children – who are well aware of the plot against them – now know that the justice system can be fair, color blind and has no religious test."
"This verdict is a victory in the struggle against Islamophobia and we hope it puts those who use hate to divide our country on notice that they cannot target Muslims or any other marginalized communities. We will continue to work together- Muslims, Christians, Jews, people of other faiths and people of moral conscious – to rid our communities, media, and governmental policies of anything that perpetrates stereotyping, profiling and vilifying of Muslims and minorities. The United States Constitution is clear. It grants each of us the right to worship in peace. It is our duty to uphold the human and civil rights of all citizens so that churches, synagogues and all places of worship are sacred."
In pursuit of the fullest measure of justice possible, The Muslims of America, Inc., represented by attorneys Tahirah Amatul-Wadud and Tahirah H. Clark, will take up the civil case filed in March, 2016 against Mr. Doggart in Binghamton, New York. to civil court. The complaint charges Mr. Doggart with violation of 18 U.S. Code § 248, the "FACE" Act, which prohibits anyone, who by force or threat of force, or by physical obstruction intentionally injures,
intimidates or interferes with or attempts to injure, intimidate or interfere with any person lawfully exercising or seeking to exercise the First Amendment right of religious freedom at a place of religious worship.
One element missing from the Feb. 16 verdict, which was not available to the jury or the prosecutors, was the opportunity to closely examine the law that enabled Robert Doggart to escape terrorism charges – a double standard that allows right-wing extremists to commit acts of terror, while avoiding prosecution in the same way as a Muslim who commits equal or lesser offenses.
The Department of Homeland Security and the FBI have provided evidence that supports the fact that these right-wing extremist groups are the number one threat of domestic terrorism in this country. Senator Dick Durban (D-IL) led congressional hearings in 2012, after the tragic murders of six Sikhs in their own temple in Wisconsin by a right-wing extremist. In the hearings, Senator Durban stated, "It was not the first tragedy based on hate and, sadly, it won't be the last. But it should cause all of us to redouble our efforts to combat the threat of domestic terrorism."
If we truly want our country to be safe, we must work to change this double standard by changing the law. Attorneys Amatul-Wadud and Clark have indicated they are prepared to work tirelessly to lobby Congress cease using a different set of rules when prosecuting extremists who terrorize American citizens. The inalienable rights of life, liberty and the pursuit of happiness should be available for all.
Islamic Post Editorial