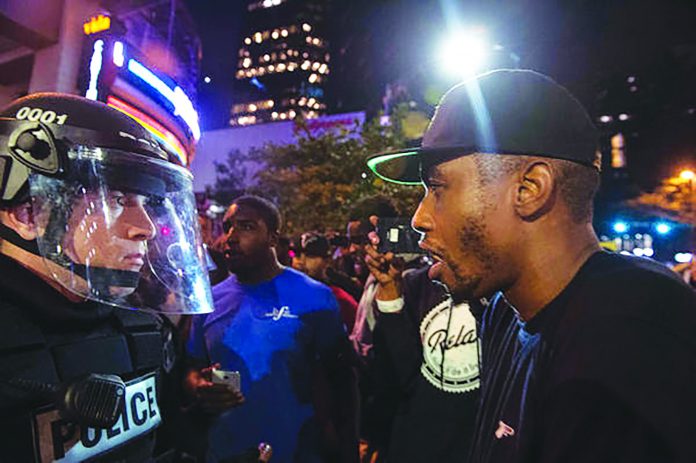 IP – North Carolina Governor Pat McCrory declared a 'state of emergency' when for two days and nights, hundreds of protesters poured onto the streets near the scene in Charlotte where a disabled African American man was killed.
Witness accounts concur that on Tuesday, September 20, Keith Lamont Scott, a 43-year-old father of four, was sitting in his car reading a book moments before he was shot four times and killed by an undercover police officer in Charlotte, North Carolina. According to press reports, family members and witnesses say that Scott, who was disabled, was waiting for a school bus to drop off one of his sons, when police arrived at the scene. The police version states that Scott exited his vehicle twice and they allegedly observed what appeared to them to be a weapon. However, North Carolina is an open carry state and thus far police are not stating that Scott ever pointed a weapon at the officer who pulled the trigger.
The furor that has erupted in Charlotte and across the United States due to the unending epidemic of unwarranted killings of African Americans, and the steadily rising number of incidents of police brutality in African American communities – beginning with Ferguson, Missouri, Boston, and St. Louis – has reached the steps of Congress. The Congressional Black Caucus demands the Department of Justice to put an end to police brutality/ targeted profiling of African Americans. The CBC delivered a letter to the attention of U.S. Attorney General Loretta Lynch on Sept. 22, 2016 demanding that the Justice Department "put an end to what appears to be the targeting and profiling of black people that result in their deaths" by conducting "investigations, indictments and prosecutions" into what CBC Chairperson Rep. G. K. Butterfield, termed "unlawful police shootings."
According to the Charlotte Observer, "Local leaders, some of whom put themselves between police and protesters during Wednesday, [Sept. 21] night's bloody encounter, said their calls for peace should not be confused with a request that an angry community "calm down." "We had calm before Tuesday [when the killing took place], but we did not have peace," said the Rev. Rodney Sadler, of the Charlotte Clergy Coalition for Justice. "There is deep mistrust in this community," said the Rev. James Leach, another member of the coalition. "Saying 'calm down' starts to sound like a message you give a child."
"Charlotte organizers have been holding protests, creating coalitions and leading discussions about police brutality against the African-American community for almost three years, since a Charlotte-Mecklenburg police officer shot Jonathan Ferrell, an unarmed black man who had wrecked his car, in September 2013. But until this week, the violence that erupted in cities across America had not come to Charlotte."
The recent unprovoked killing of another African American man, Terence Crutcher, in Tulsa, Oklahoma, has also ignited outrage and anger. Law enforcement officials there released video footage of the incident captured by a police helicopter that was circling the location where Crutcher's car had stopped, later declaring, without any doubt, that the victim did not have a weapon. In this case, the officer held responsible, Betty Shelby, has now been charged with first-degree manslaughter and released on bond.
The blatant police killings of Alton Sterling in Baton Rouge and Philandro Castile in Falcon Heights, Minnesota (both captured on clear video and both African American) evoked protests and anger that added fuel to the already raging fire fanned by the years of failure of law enforcement officials to prosecute and punish those police who follow a 'shoot first, question later' orientation.
Until the African American community are allowed the same social justice rights and privileges as other Americans, protests and uprisings will continue. The indiscriminate killings of African Americans, males in particular, at the hands of law enforcement must end. The humanity of America will continue on a deteriorating decline until it does.
Source: The Islamic Post