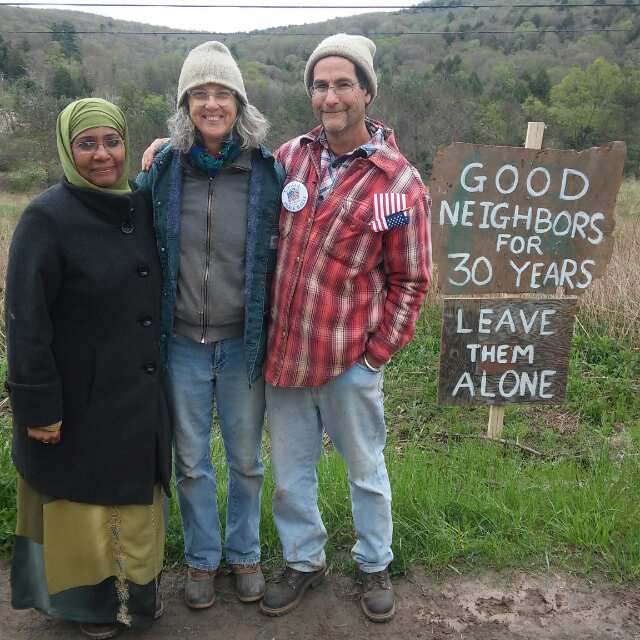 In a beautiful show of unity from the People of the Book, Muslims, Christians, and Jews gathered in Islamberg, NY to rally for peace. In 2015, the American Bikers United Against Jihad (ABUAJ) began calling on biker "patriots" to join them in Islamberg NY on May 15, 2016 for what they were portraying as a "Ride for National Security", but in actuality was a parade of hatred. Their "ride" fizzled when only five bikers and a few cars showed up and were met by a solid wall of true patriots standing in unity, waving U.S. flags, at the entrance to Islamberg. Approximately 400 men, women and children traveled from different parts of the country to promote peace for all Americans. "Here we are today to send a very clear message that you – Islamberg — are a part of our community and we stand beside you as our neighbors to make sure that no one does harm to anyone in our community," said Nancy Furdock of Hancock.
In a video interview conducted by the Walton Reporter before the ride, Rami Lubranicki from New Jersey, the creator of ABUAJ and ride organizer, said he wanted to "educate and raise awareness against the threat of homegrown jihad". He claimed they wished no harm on the residents of Islamberg. However, Islamberg residents contend that by planning the ride and promoting outdated and repeatedly debunked lies about the community, Lubranicki and his cohorts contribute to making Islamberg and its residents targets for hate mongers and Islamophobes.
In the keynote address, Syed Sultan Ahmed Shah Gillani stated, "It is a fact that Muslims, Jews and Christians share the honor of being a part of the three Abrahamic faiths. Your attendance defies those who say we cannot coexist and support each other as a single humanity." Tom Schimmerling Esq., from Delhi, NY expressed to the audience that showing support for the Islamberg community was an easy decision for him because his own family experienced religious persecution during the holocaust. "There is no finer or more important duty than defending your neighbors through oppression," said Schimmerling.
    Islamophobia is not a new phenomenon, nor is its brutal effect. We can look back in history and see that it initially emerged over 1400 years ago during the advent of Islam. The first Muslims of Makkah were subjected to extreme persecution. Men and women were tortured and butchered while children were killed in their mother's laps. This was in part due to the fear by non-Muslim Makkans that their status, power and wealth would be threatened with so many turning to Islam.
Upon the command of the Holy Last Messenger (peace be upon them), the Muslims migrated to Abyssinia (present day Ethiopia) and sought protection under King Negus who was a Christian. Pursued by their Makkan enemies who implored the king to return the Muslims to them, he famously concluded that the beliefs held by Muslims and Christians stemmed from the same Divine source. King Negus extended honor and protection to the Muslim migrants, refusing to hand them over.  This is the first instance in the shared history of Muslims and followers of Jesus Son of Mary (peace be upon him) coming together in such a noble cause and was not to be the last.
On this Sunday, history was to repeat itself where an exceptionally powerful demonstration of solidarity in the face of oppression occurred in the village of Islamberg. Neither the eventual arrival of the minuscule group of bikers, nor the unexpected snow flurries could dim the miracle that was taking place. For the devotees of peace and unity, the atmosphere was festive as they shared laughter, food and conversation. The program ended with newfound friends visiting the Islamberg mosque and touring the village.
ABUAJ's attempt to invade the peace and tranquility of the very peaceful community of Muslims at Islamberg, headquarters of The Muslims of America, Inc. was a misfire. The People of the Book stood united as one solid force against ignorance, hatred and bigotry.  "We will never forget this noble gesture." said Khalifa Hussein Adams in his closing remarks. "We regard you all as our family."
Source: Islamic Post Editorial