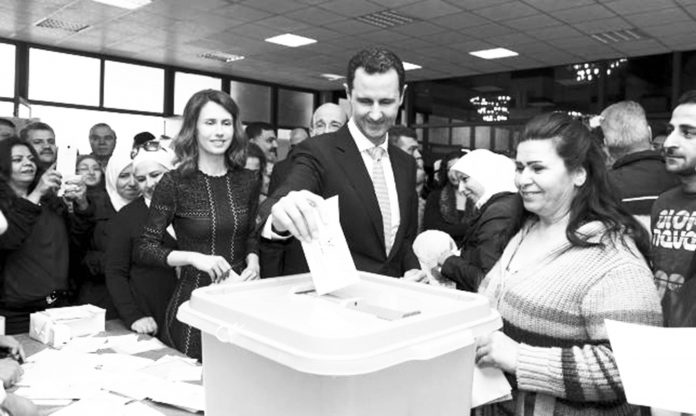 DAMASCUS — The Syrian higher electoral committee announced the results of the parliamentary elections, held on April 13. According to media reports, Syria's ruling Baath party and its allies won a majority of seats in parliamentary elections last week across government-held parts of the country, running under the "National Unity" coalition and won 200 of the parliament's 250 seats.
"The turnout was estimated at 57.56 percent, as out of 8,834,994 eligible voters, 5,085,444 had voted, said the committee. Syria's parliamentary elections began with some 3,500 candidates vying for the 250 parliamentary seats, amid a boycott by opposition groups. A total of 7,300 polling stations opened at 7 a.m. (0500 GMT) in government-controlled areas across the country.
In the capital Damascus alone, there were about 1,500 polling centers in addition to 540 polling stations for people from the provinces of Deir al-Zour, al-Raqqa, Idlib, Aleppo, and Daraa, which are largely not controlled by the government," Xinhua reported.
The last parliamentary elections were held in 2012, just months after the adoption of a new constitution in the war-torn country. In the current and the last elections, the opposition announced a boycott."
"The voting was held in 13 Syrian provinces out of 15, as Raqqa and Idlib remain under terrorist control. An estimated 80 percent of the Syrian population lives on government controlled territories. Syrian President Bashar Assad and his wife Asma cast their ballots in Damascus, national news agency SANA reported. The Syrian leader made no comments to the press.
The parliamentary elections in Syria occur every four years and the last time the voting took place, the civil war was already raging on.
As reported by Al-Arabiya, "The head of the US and Saudi-backed opposition group, HNC, called on the UN Security Council to take firm actions against violators of the truce, which had been in place for about a month. UN peace envoy Staffan de Mistura said he had been informed by HNC that it would suspend its "formal participation" in the talks. Meanwhile, Syrian Prime Minister Wael al-Halaki said on April 21 that Damascus will hold a referendum on the constitution after the formation of a new government, Russian RIA news agency quoted him saying in an interview."
Damascus insists the vote is constitutional and the ongoing peace talks in Geneva have nothing to do with the expression of the will of the people. Members of the Syrian opposition backed by the Arab monarchies of the Persian Gulf have denounced the elections," as reported by RT.com.
Source: RT.com