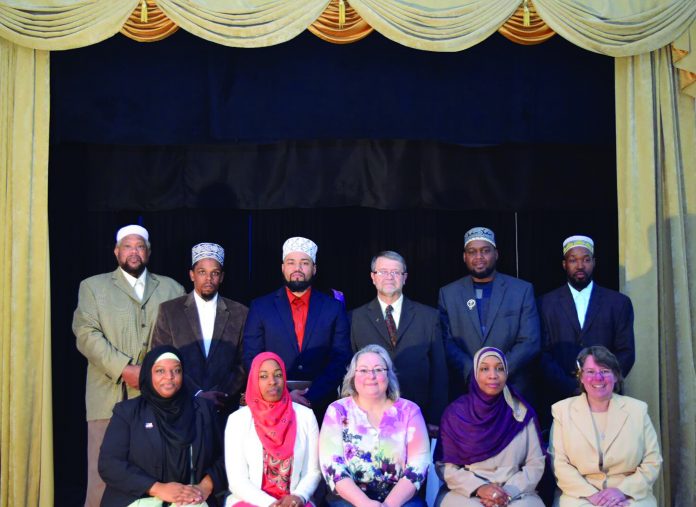 Hancock, NY — On Sunday, April 24, 2016, The Muslims of America, Inc. (TMOA) community of Islamberg partnered with clergy and residents of Hancock, NY to host an information program about Islam and their Muslim neighbors.  The program was an inspirational coming together of the family of Abrahamic faiths who have been neighbors for several decades in upstate NY.
Hancock is a tight-knit community located in the NY Catskill region and has been home to the Muslim community at Islamberg for more than thirty years. However, Islamophobia promoted by individuals and organizations outside of the area have succeeded in casting doubt and suspicion within the general population of the local towns, slowly eroding a decades long peaceful coexistence.
Nancy Furdock, chair of the planning committee for the program and a resident of Hancock for over 16 years, initially reached out to the Islamberg community earlier in the year to offer support. Ms. Furdock gave the opening address for the program.  She stated, "It is my hope that whatever your personal beliefs, you will join the brave leaders of the faith community in setting examples to the world of how neighbors should behave towards one another…and in doing so send a message to outsiders who threaten the peace in the community…. to let them know that we stand beside our Muslim neighbors and that we consider any threat against them as a threat against our entire community."
Patricia and Joan, owners of the Two Sisters Emporium, generously hosted the standing room only crowd of approximately 100 from Hancock and Islamberg, along with representatives from local clergy and law enforcement. After opening remarks, a panel discussion titled "Understanding Islam and Islamberg" began with Hon. Hussein Adams, Chief Executive of The Muslims of America;  Abdul Mumin, interfaith expert; Pastor Laura Kyler of the Emory United Methodist Church; Attorney Tahirah H. Clark; and Dr. Ken Whitt, retired pastor.   The panelists discussed basic facts about Islam and beliefs shared with Christianity. Panelists from Islamberg also discussed the history of threats and misconceptions about Islam that have been propagated by Islamophobes, especially in recent years.
Following a stimulating session of questions and answers, the program closed with a brief address from Nusrat Jehan Abdallah, a 15-year-old Islamberg youth representative, and with an emotional and heartfelt unity song performed by a group of children from Islamberg. With hands joined and raised, the crowd swayed to the pure voices of the songsters – tears falling in joy and in the unifying spirit of the old civil rights movement resurrected.  This was an acknowledgement that something great had just taken place.
Ms. Yasmin Abdulatheem, co-organizer for the event, described the atmosphere after the program ended, "There was an undeniable energy in the room, along with smiling faces and even a sense of relief. Many attendees stated how pleased they were that honesty and open dialogue has produced a stronger bond of unity with the Muslims in the Hancock community."
SOURCE: The Islamic Post