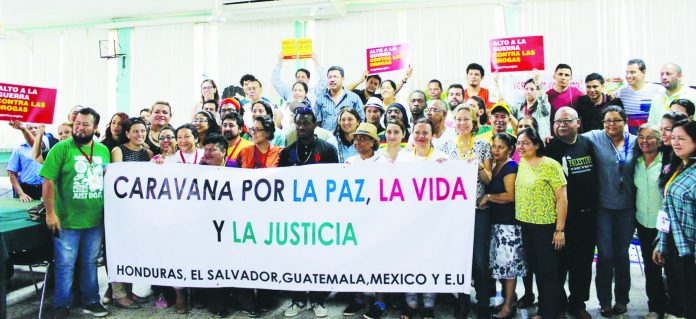 Drug prohibition policies implemented by nations across the world do not seek to criminalize the consumption of narcotics, rather it seeks to criminalize working class and marginalized people, argues Mexican Catholic priest and human rights defender, Alejandro Solalinde.
"We are not here to say 'yes, continue to consume drugs', that is not our role; rather, we are here to expose policies that are supposedly against drugs, but rather, are a pretext to repress poor people," said the religious leader at a recent cultural event in Mexico City to welcome the arrival of the Caravan for Peace, Life and Justice, that departed from Tegucigalpa, Honduras March 28.
Activists, academics and families of victims of drug war violence from South, Central and North America who are participating in the caravan, held a forum to echo and analyze the sentiment of Solalinde, underscoring their argument that the so-called war on drugs only inflames violence, corruption and a mushrooming human rights crisis in the region.
In the "Dialogue for Peace, Life and Justice", held at the historic Museum of the City, in Mexico City in April, Honduran activist and member of the Black Fraternal Honduran Organization, Felix Valentin gave testimony on how prohibition policies have laid the groundwork for corruption and collusion between the authorities and organized crime in the Central American country.
"Gang members show up at homes of our people, kidnap the girls and women, and take them to their safe houses, so as to rape them and the same pattern of conduct is carried out by the military, because they show up and do the same thing as the crime members."
Since the 2009 coup that ousted the democratically-elected president Manuel Zelaya, murders and violence have skyrocketed in Honduras, with organizations such as the Inter-American Commission on Human Rights denouncing the increase in cases of military and police abuse.
In the case of Mexico, since the 2006 deepening of the militarized strategy of the so-called drug war, more than 200,000 people have been internally displaced due to the violence with estimates of more than 100,000 killed and 27,000 disappeared.
Yet, the acclaimed Argentine/Mexican academic Adolfo Gilly underscored the importance of one of the goals of the Caravan, which has travelled through some of the communities most impacted by violence in Central America and Mexico.
"As the caravan advanced forward, and paid witness and lives (this tragedy), it  planted the seeds so that the victims or families of victims understand that they are not just victims, they are active humans, capable of action."
According to caravan organizers, the ultimate goal of the initiative, accompanying the victims to the U.N.'s Special General Assembly on International Drug Policy, held April 18, was accomplished, intervening and generating a debate at the international level to treat drug policy under a public health and scientific lens.
By Clayton Conn