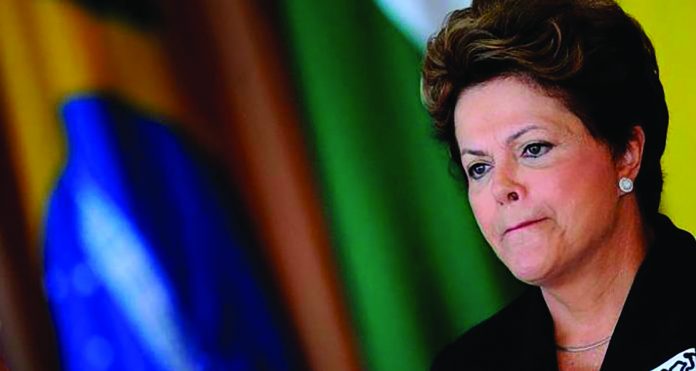 Brazil's lower house  of congress has voted to impeach President Dilma Rousseff, delivering a major blow to a long-embattled leader  whose supporters repeatedly argued that the push against her was a "coup" attempt by her political rivals who seek to undo the progressive social and economic gains Brazilians have enjoyed during her time in office.
Much can happen in the coming weeks  in a political tussle that has more plot twists and political drama than the series 'House of Cards'.
The latest surprise was a leaked speech by vice president, Michel Temer that appeared to show him preparing to move into the president's palace and establish a government of national unity and salvation.
Temer told reporters the audio message was intended for a politician close to him who had asked if he was prepared to govern in the case that Rousseff were to be impeached. He said the message was mistakenly sent to the wrong group on text messaging service WhatsApp. Workers's Party officials accused him of betraying his running mate.
Apart from occasional scuffles between pro-government and opposition protesters, most of the tension has so far been released in Congress and public statements. Rousseff's supporters have put up a spirited fight. Attorney general José Eduardo Cardozo, condemned what he called a "flawed" process.
"It is absurd to dismiss a president who has not committed crimes, nor stolen a penny," he said. "Such a process without crime or fraud would be a coup." But he and other allies were overwhelmed in the televised committee meeting.
The committee defeat was expected. Since the biggest party in Congress – the Brazil Democratic Movement party (PMDB) – declared it would abandon the ruling coalition last month, Rousseff has effectively been leading a minority government.
The president is also on the ropes as a result of economic recession, corruption scandals and plots by the PMDB and other parties to seize power.
But Rousseff, who has more than two years of her mandate left to run, is far from being knocked out.
Her opponents are not assured of success in their arms as the impeachment will also have to be approved twice by the Senate – first by a simple majority, then by two-thirds – before it is finalized. The government can also challenge the process in the supreme court.
Public opinion is another factor. Despite her own dismal approval ratings, which hover around the 10 percent mark, most of Rousseff's rivals are even more despised and are accused of equal or greater wrongdoing.
The impeachment process has been spearheaded by lower house Speaker Eduardo Cunha, a PMDB leader who is accused of taking more than $5m (£3.5m) in kickbacks from state-run oil company Petrobras and lying to Congress about secret bank accounts in Switzerland.
Rousseff's most likely replacement is Temer, also of the PMDB, who also faces impeachment proceedings because he signed off on the same policies as the president. More than half of the 65-member impeachment committee are also charged with bribery or other crimes.
Compared with these accusations, the penalty for the president's alleged wrongdoing is of questionable proportionality. Her administration was not the first to temporarily window-dress government finances, but none of her predecessor faced repercussions of this severity. The Workers' party claims this represents a "coup". This accusation was echoed by former president Luiz Inacio Lula da Silva, musician Chico Buarques and other artists at a rally of several thousand anti-impeachment supporters under the Lapa arches in Rio de Janeiro.
Many of those who dislike the ruling party do not use this term, but they are uncomfortable about the threat to democracy posed by the removal of an elected president on such flimsy grounds.
Overall, support for impeachment remains high, but appears to be ebbing. A Datafolha poll at the weekend, showed 61 percent of respondents favored Rousseff's removal, down from 68 percent in March.
The last Brazilian president to come so close to impeachment was Fernando Collor de Mello who resigned in 1992 on the eve of his conviction by the Senate.