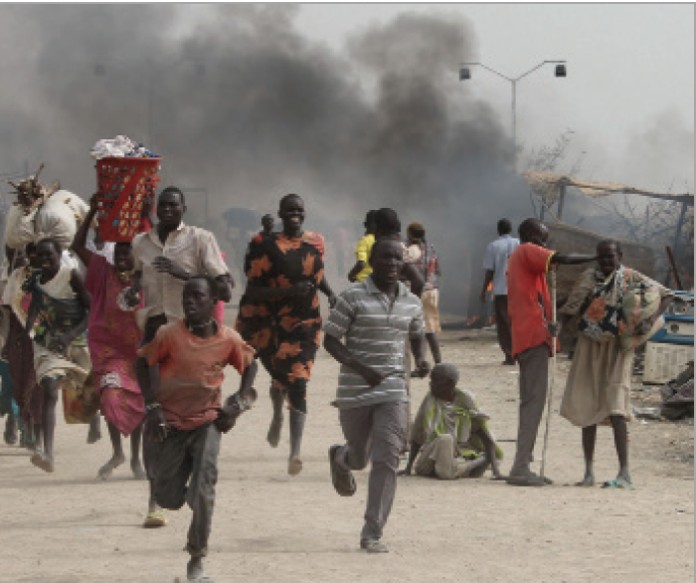 Gunmen in army uniform walked into a UN camp in South Sudan and murdered 25 refugees and aid workers, wounding 120 more, the UN has said in a report.
The killings took place in February, but recently the UN finally admitted that the incident could be described as a "massacre".
This contradicts earlier UN statements that the deaths were caused by a "tribal" gun battle between local youths.
UN peacekeepers also failed to protect civilians sheltering in the base, the report read.
Fighting did take place over two days inside the camp in the northeastern town of Malakal, a report from the UN Office for the Coordination of Humanitarian Affairs (OCHA) said.
Over 47,000 people live in the camp, after fleeing for safety from a civil war that broke out in December 2013.
Reports of troops in government army uniforms storming the camp and "firing on civilians" were "credible", OCHA said.
"About 3,700 families' shelters were destroyed or damaged during the fighting and fires, along with multiple humanitarian facilities, including clinics, water tankers, nutrition centres and schools," OCHA reported.
Residents say 46 people were killed in the 17-18 February attack, while the UN has now updated to 25 an earlier toll of 18.
Those killed include three aid workers, two of them South Sudanese health workers for medical charity Doctors Without Borders (MSF). One was murdered as he administered care, MSF said.
"Other people who tried to put out fires or help the wounded were deliberately targeted and shot," said MSF, which treated 46 people for bullet wounds.
Residents say some were burned to death in the deliberate fires that razed sections of the camp, where civilians lived in segregated ethnic plots to dampen tribal tensions.
The UN has said the attack was a possible war crime.
"The 47,000 people living in the camp had already suffered through two years of violence and were forced to seek shelter amid inhumane, substandard conditions," MSF said.
"As a result of this attack, many are now left with nothing."
The UN said in December 2014, one year into the conflict, that "tens of thousands" had been killed, but has been unable to keep a clear toll of the conflict.
"We've lost count," UN peacekeeping chief Herve Ladsous said recently, when asked how many had died.
Since the attack in Malakal, clashes elsewhere in the eastern small town of Pibor on 21 February forced thousands to flee as gunmen looted five aid agency bases, including an MSF clinic.
After winning independence from Sudan in 2011, South Sudan erupted into civil war in December 2013, setting off a cycle of retaliatory killings that have split the poverty-stricken, landlocked country along ethnic lines.
SOURCE: –Al Araby