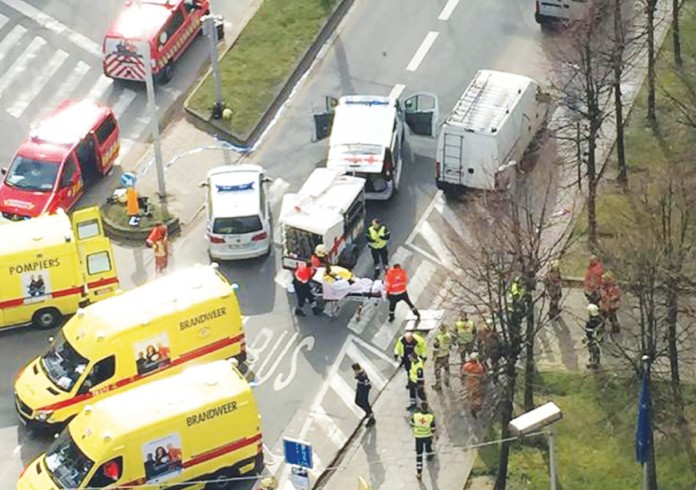 The Muslims of America, Inc. (TMOA) condemns the horrific bombings in Brussels, and extend condolences for the tragic loss of lives and the suffering of victims and the families of all impacted by recent violence including those suffered in the recent terrorist attacks in Turkey, Yemen, Ivory Coast and Nigeria.
Today's attacks on Zaventem Airport and Maelbeek metro station in Brussels, Belgium reportedly left approximately 30 dead and more than 200 injured. The attacks came just a week after the capture of Salah Abdesalam in Brussels who was wanted in connection to the November 2015 Paris attacks.  Shortly following the multiple explosions ISIS claimed responsibility for the carnage and destruction. Brussels is the latest in a series of violent attacks by groups such as ISIS and Al Qaida.
Following the attacks in Brussels an emergency meeting was convened in Islamberg, NY, chaired by His Eminence El Sheikh Syed Mubarik Ali Shah Gillani. In attendance were Mr. Hussein Adams, (Chief Executive of TMOA) Mrs. Khadijah Smith (Trustee), Mrs. Khadija A. Salaam (Trustee), Amir Sulaiman A. Rahim (TN), Mr. Sa'id A. Kareem (GA), Mr. Saeed Ramadan Shakir (SC), and Mr. Faruq Baqi (NY). TMOA administration and national representatives addressed community members and issued the following statement:
"On behalf of American Muslims, we condemn this horrendous act of cruelty against innocent men, women and children by Wahhabi extremists.  Muslims from all over the world deplore such acts. Islam forbids the indiscriminate killing of men, women and children. Unfortunately this has always been and continues to be the practice of Wahhabi extremists. These extremists attack mosques, sacred tombs and holy sites throughout the world while killing innocent people using suicide bombers. These acts are unequivocally forbidden in Islam. The primary targets worldwide of these terrorists are Muslims who, like we are doing, speak out and expressly condemn these brutal and cowardly actions.
We express our sympathies and heartfelt condolences to the relatives of the deceased and all of those impacted by this vicious tragedy.
We assure the global community that Islam and Muslims at large have nothing to do with such acts. It is a fact that Sunni Orthodox Muslims, who account for 85% of the worldwide Islamic community, have not and do not commit such acts of sabotage or killing of innocent men, women and children.  The Brussels attack and those done in the days prior, shock the world.  They also bring great hardship for Muslims because the resulting feelings of fear and anger bring an undeservedly bad name to the practice of Islam.
We can assure that American Muslims are never involved in such activity and they never will be so involved.  American Muslims and Christians have stood in solidarity in speaking on the truth behind these types of attacks. We must nurture this bond and continue to unite.  Because of this bond, which is impermeable, extremists will never be able to exploit the emotional climate we presently face as a reason to justify violence on the soil of the United States.
We appeal to the United States government to monitor those thousands of Salafis in this country who have hundreds of mosques from which they propagate the inhumane doctrine of Ibn al-Wahhab.
The Muslims of America, Inc. pledges to provide any needed assistance and support in this fight against terror and will remain vigilant and speak out against suspicious activity and threats against this great nation."
Source: Islamic Post Editorial Board