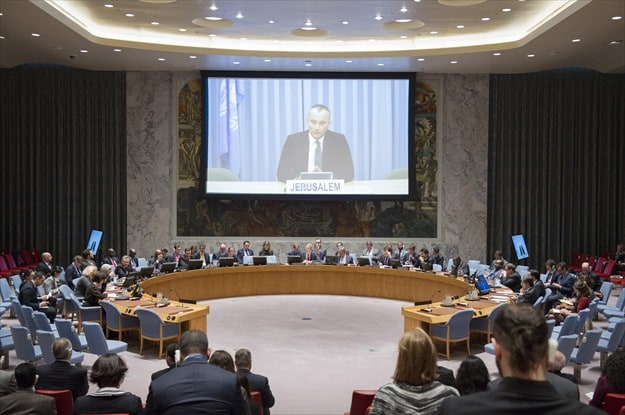 The UN Security Council (UNSC) has urged Ankara to comply with international law in Syria, following a briefing requested by Russia. The closed-door meeting was called to discuss recent Turkish shelling of Kurdish YPG militia targets in Syria's north.
UN Security Council members are concerned with the Turkish attacks on a number of Syrian regions," Venezuelan Ambassador Rafael Ramirez, who now chairs the UNSC, said after the meeting, as cited by TASS.
The UN Security Council received a letter from the Syrian government in which Damascus condemned Turkey's attacks in the north of Syria, Ramirez explained, noting that the entire council expressed "concern" about these violations.
"All members of the Security Council … agreed to ask for Turkey to comply with international law," he added.
The UNSC also reiterated its commitment to the Munich agreement, expecting that all parties involved in the discussions will work toward a ceasefire to "allow humanitarian access for every place in the Syrian territory."
Both government and opposition-held towns in Syria over the border from Turkey have fallen under Ankara's shelling that began Feb.13, according the Russian Ministry of Defense.
Turkey's artillery has fired more than 100 shells at bordering areas in the northwest province of Aleppo, targeting both Syrian government forces and the opposition, MoD spokesman Igor Konashenkov told reporters.
"Since [Feb.13] Turkey has been launching massive artillery strikes on the Syrian government and the Syrian opposition at the border areas. Impartial monitoring bodies have detected more than a hundred rounds of fire that targeted border towns in the province of Aleppo," Konashenkov said.
Beginning in mid-Feb.,Turkey started pounding Syrian Kurdish forces with fire in northern Syria in an apparent attempt to stop them from taking over the city of Azaz, Aleppo.The Turkish army shelled Kurdish targets near the city of Azaz in northwest Syria, including an air base that had recently been retaken from Islamist rebels, with a massive attack. It also hit Syrian forces across the border, according to media reports.
"The UN Security Council members are concerned with the Turkish attacks on a number of Syrian regions," UNSC President Rafael Ramirez said, according to TASS news agency, after a meeting held upon Russia's request, adding that the members "have agreed to ask Turkey to obey international law."
The Anatolia news agency reported that the Turkish military also hit Syrian government forces.
Source: RT.com