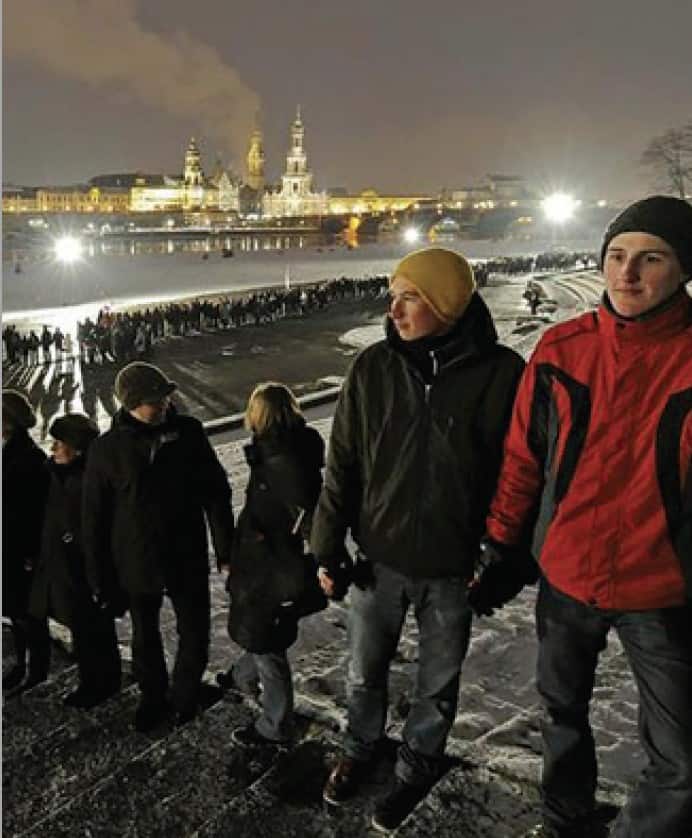 The eastern German city of Dresden paid its respects to the victims of the devastating allied bomb attack which was carried out 71 years ago. Memorials were eclipsed, however, by a right-wing march.
Some 13,000 people gathered on both sides of Dresden's Elbe river on Feb.13, where they linked arms in a sign of peace to remember the thousands of victims of an allied bombing attack on the city in the last year of the Second World War.
'War crime'
In a series of four raids between February 13 and 15, 1945, British and US air forces dropped more than 3,900 tons of explosives onto the city once known as the "Florence of the Elbe."
The impact of so many bombs created a firestorm – a phenomenon in which a fire reaches such a level of intensity that it draws all the oxygen out of the surrounding area.
Between 22,000 and 25,000 thousand people are estimated to have been killed in the bombing, most of them civilians. Critics have long said that the attacks were an unnecessary, indiscriminate act of violence against nonmilitary targets.
Some historians and writers, such as Günter Grass, even suggested it amounted to a war crime. The Allies argued, however, that the resulting halt to German industrial production was a military gain significant enough to justify the bombing.
The bombing and the resulting firestorm destroyed over 1,600 acres (6.5 square kilometers) of the city center. Speaking at the memorial event, Hilbert urged the city not to forget those who were currently fleeing war and terror.
With growing right-wing sentiment in mind, the human chain created by thousands of Dresdeners  was also symbolized the city's unity against the right-wing populist movement PEGIDA (Patriotic Europeans Against the Islamization of the West).
The Feb. 13 memorials were overshadowed by a right-wing march on the eve of the commemorations, when between 550 and 650 right-wing demonstrators marched through the southeast of Dresden. More than 300 people turned out in opposition.
Source: DW.com